Tahun ini Senayan City menapaki perjalanan usia 13 tahun sebagai salah satu pionir dan favorit lifestyle shopping mall, di Jakarta. Secara konsisten selalu saja ada program-program terbaru yang menjadi trendsetter iconic event baik di fashion, beauty, interior design, culinary dan interactive installations, serta beragam program berbelanja yang membuat Senayan City selalu dikungjungi. Kali ini Senayan City melihat ruang publik untuk seni yang semakin berkembang di Jakarta, maka perayaan 13 tahun Senayan City dituangkan dalam sebuah festival seni rupa kontemporer / art installation yang tersebar di ruang publik mall. Karya yang ditampilkan mewakili perkembangan perjalanan Senayan City selama 13 tahun dengan mengusung Konsep "TODAY. TOMORROW. THE FUTURE." Dengan nama perayaan Senayan City 13th ARTniversary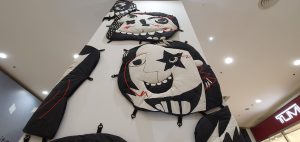 Geliat Seni Dan Gaya Hidup
Geliat seni rupa ini dapat dilihat mulai tanggal 1 – 29 September 2019. "Instalasi karya 13 seniman yang terpilih dalam pameran 13TH ARTniversary akan menempati pilar dan hanging decoration dengan dimensi yang berbeda-beda seperti lukisan, patung, foto hingga digital motion graphic dengan pendekatan ragam media dari pendekatan konvensional hingga metode non konvensional. ARTniversary ini diharapkan dapat memberikan inspirasi bagi para pecinta seni dan pengunjung setia Senayan City untuk selalu menjaga dan mengapreasiasi seni di ruang publik serta mendukung karya-karya seniman Tanah Air." ujar Halina, selaku Leasing & Marketing Communication Director Senayan City.
Kini, Esok, Dan Nanti
Senayan City membagi ruang gedung ke dalam wilayah The Artisan, CSR: Artniversary Charity Auction, dan The Artivity. Pada kelompok The Artisan, Senayan City berkolaborasi bersama 13 seniman kontemporer Indonesia yang telah dikenal di kalangan pecinta seni, yang berasal dari Jakarta, Bandung, Jogjakarta dan Bali. Pameran karya seni ini dapat dinikmati dalam ruang publik mall yang terbagi dalam 3 kategori area utama, mulai dari Main Lobby, South Lobby dan North Lobby. Area TODAY, menggambarkan potret hidup kita saat ini. Seniman yang berkolaborasi di area ini adalah: Antonio S. Sinaga, Erwin Windu, Made Valasara, REBELLIONIK, Ruth Marbun, Rega Ayundya Putri dan Sekarputri X Agugn. Area TOMORROW, berlokasi di South Lobby Senayan City, pengunjung dapat menemui karya seni oleh Anton Ismael, Monica Hapsari dan Satria Nugraha. Pada area ini menjabarkan kemungkinan esok hari, tentang harapan baru, pemikiran baru, dan semangat baru. Area THE FUTURE, tempat imajinasi tentang masa depan, diwakilia dengan realisasii impian seniman Bandu Darmawan, Eldwin Pradipta dan Fika Ria Santika.
Amal Edukasi Seni
Wilayah CSR: ARTniversary CHARITY AUCTION, adalah tempat mendukung kemajuan edukasi seni di Indonesia lewat lelang karya seni, ini untuk pertama kalinya, Senayan City mengadakan ART CHARITY AUCTION yang akan di lakukan pada saat malam puncak perayaan Senayan City 13th Anniversary oleh Juru lelang – Deborah Iskandar dari ISA Art and Design. Sebagian dari hasil lelang akan didonasikan ke Yayasan Mitra Museum Jakarta (YMMJ). Karya seni yang akan di lelang terdiri dari beberapa karya seniman seperti Antonio S. Sinaga, Erwin Windu Pranata, Fika Ria Santika, Made Valasara dan Rega Ayundya Putri, tidak hanya itu Senayan City juga menghadirkan karya instalasi Mother Earth by Rinaldy Yunardi. Wilayah ARTivities, tempat kolaborasi Senayan City dengan Ganara.Art dan ArtSphere, memberikan program seperti Art Class & Art Dialogue yang berlangsung mulai dari 1 – 29 September 2019 di Curated Space, lantai 1. Di wilayah ini akan ada juga Theatrical Artniversary Performance di Ground Floor dan rangkaian ARTNIVERSARY Workshop di FASHIONLINK X #BLCKVNUE lantai 2 & DEL/CAE VIP room lantai 5.
Ulang Tahun Berhadiah
Khusus menyambut perayaan SENAYAN CITY 13TH ARTniversary, SCX Member berkesempatan memenangkan 13TH ICONIC PRIZES dengan Grand Prize LEXUS UX200 dan hadiah lain seperti 4 tiket Business Class Turkish Airlines ke semua destinasi Eropa, iPhone XS Max, Samsung Galaxy 10+, TAG Heuer Carrera watch, Travel Luggage RIMOWA, Diamond Frank & Co, Disney X Coach Signature Riley, Senayan City Shopping Voucher senilai Rp13.000.000,- dan voucher 3D2N Banyan Tree Ungasan Bali. Program belanja ini telah berlangsung mulai dari 21 Juni hingga 18 September 2019. Undian pemenang akan diumumkan pada 18 September 2019 pukul 16.00 WIB di Main Atrium Senayan City. Program belanja SCX SHOP TO SURPRISE! Bagi 30 SCX Member atau pengguna kartu kredit Bank Mandiri* yang berbelanja minimum Rp1.000.000,- mulai 13 – 22 September 2019, akan berkesempatan untuk mendapatkan berbagai hadiah langsung berupa Thule luggage, Bottega Veneta sunglasses, Kate Spade watches, 3D2N Sofitel Bali stay voucher, Senayan City Voucher dan masih banyak lagi.
Foto: Dean & Senayan City