Pelayanan yang excellence, fasilitas berlevel world-class, berkontribusi dalam mempromosikan pariwisata Jakarta, ikut melestarikan konservasi budaya, dan berhasil membangun environmentally friendly, membuat Grand Hyatt Jakarta kembali meraih penghargaan Adikarya Wisata Award 2019 sebagai The Best 5-Star Hotek di Jakarta. Ini bukan Adikarya Wisata Award pertama bagi Grand Hyatt Jakarta, hotel yang terletak di jantung kota Jakarta ini pernah meraih penghargaan yang sama pada tahun 2006. Penghargaan yang menggembirakan tahun ini diberikan oleh gubernur DKI Jakarta, Bapak Anies Rasyid Baswedan, Ph.D.  "At Hyatt, our purpose 'we care for people so they can be their best' guides all business decisions, including our global sustainability framework, which focuses on using resources responsibly and helping address today's most pressing environmental issues. It is truly an honour to win the award this year. We are humbled," ujar Peter Stettler, General Manager of Grand Hyatt Jakarta and Area Vice President of Indonesia. "The competition in the 5-star hospitality sector is fierce and the standards of products and services constantly being raised to ever higher level of luxury.  Hence, this is a great acknowledgement for our efforts," tambahnya Mr. Stettler lagi.
Grand Hyatt Jakarta Hotel Bintang 5 Terbaik
Grand Hyatt Jakarta berlokasi di kompleks ikonik yang telah menjadi landmark kota Jakarta, yaitu Plaza Indonesia di Jalan M.H. Thamrin, Jakarta Pusat. Grand Hyatt Jakarta memilik akses mudah ke office buildings, berada di area kantor-kantor pemerintahan, kantor-kantor kedutaan, spot-spot budaya, dan shopping mall. Hotel dirancang bukan semata untuk pelesiran dan menghabiskan mewahnya waktu, namun hotel ini juga sangat nyaman untuk sebagai tempat singgah dalam urusan-urusan bisnis. Grand Hyatt Jakarta memiliki luas lebih dari 2000 meter per segi, baik untuk tempat mengadakan pertemuan, business meeting, menghabiskan waktu bersama crème de la crème, menikmaati Spa, dan menyesap cappuccino di Fountain Lounge yang menghadap ke  mewahnya bundaran airmancur di pertemuan jalan MH. Thamrin dan jalan Jenderal Sudirman.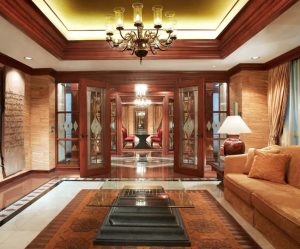 Foto: Grrand Hyatt Jakarta