Ada satu lagi hal seru datang dari indutri wewangian di Prancis, namanya Hermetica, satu jenama yang terdiri dari varian molekul keharuman yang terinspirasi dari kinerja proses utak-atik kimia kuno demi menemukan tetes-tetes 'elixir of life'. Kinerja ini coba dibangkitkan lagi dalam proses formulasi parfum jaman modern, dengan dasar pemikiran bahwa parfum yang terbaik selalu dilandasi pada utak-atik kecocokan kimia antara molekul dan kulit manusia. Duo pencipta Mermetica, John Molly dan Clara Molloy perlu waktu lebih dari dua tahun berkreasi menciptakan hibrida antara bahan-bahan alam dan molekul sintetis hingga lahirlah Hermetica. Mereka dibantu oleh Philippe Paparella (seorang senior perfurmer).
Wangi Yang Bebas Alkohol
Hermetica berformula alcohol-free yang mampu membuka lapisan fragrance langsung ke heart note, kemudian menggunakan teknologi Innoscent™ (yang sudah mereka patenkan). Varian yang dihasilkan adalah 13 long-lasting parfum dan satu Source (diciptakan sebagai opening elixir). Ke 13 parfum ini dikelompokkan ke Dry Water, terdiri dari parfum Rosefire (davana essence, rose absolut, dan molekul floral violet); parfum Multilotus (bergamot essence, osmanthus absolute, dan molekul floral fresh); parfum Megaflower (orange flower absolute, vetiver oil, dan molekul orange blossom). Kelompok Emerald Satirways, terdiri dari parfum Jade888 (ginger extraxt CO2, molekul lily of the valley, dan molekul green msuk), parfum Spiceair (cinnamon essence, molekul fresh, dan molekul green moss), parfum Greenlion (juniper berry oil, molekul amberwood, dan molekul distilasi patchouli oil); kelompok The Door, terdiri dari Cedarise (cedarwood oil, vetiver oil, dan molekul musk); parfum Sandalsun (pure vanilla extract, hazelnut accord, myrrh essence); parfum Patchoulight (violet absolute, patchouli essence, dan molekul lemon rose); kelompok Vertical Ambers, terdiri dari parfum Amberbee (bergamot essence, molekul amber, dan molekul sweet powder wood); parfum Vaninight (almond oil, vanilla absolute, dan molekul jasmine flower); parfum Verticaloud (oud accord, rose oil, dan molekul vibrant amber). Satu yang berbeda, yaitu Source, berupa opening elixir, pertemuan antara essence bergamot, molekul fresh wood, dan molekul dry amber.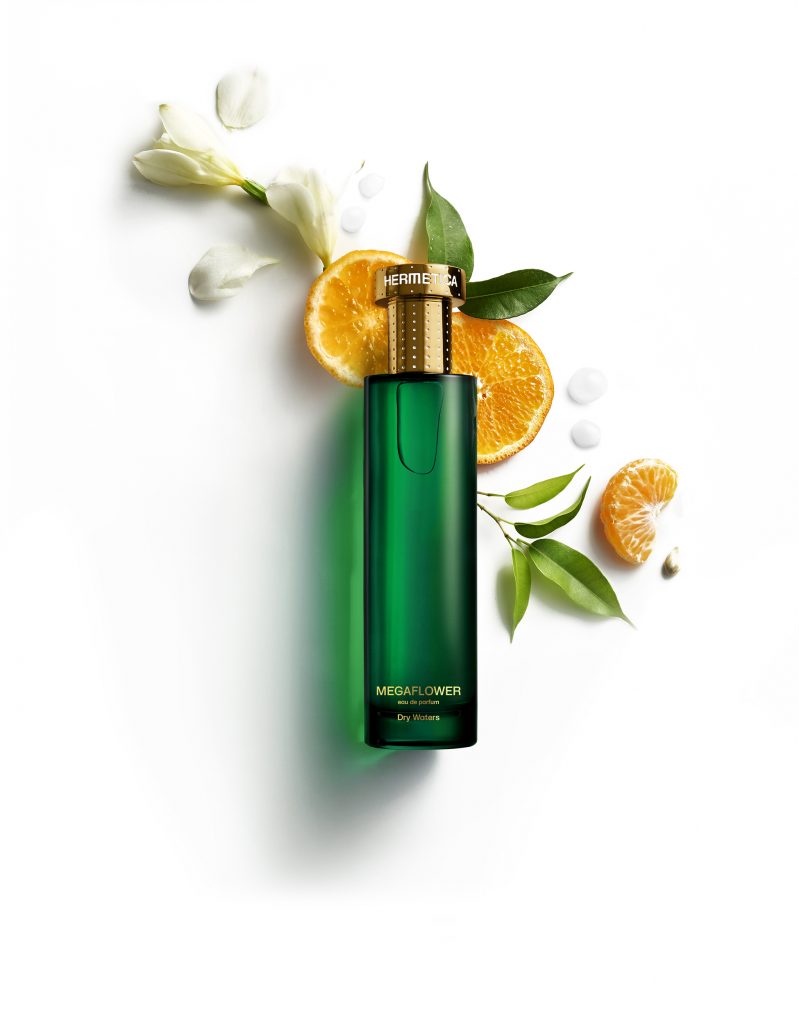 Foto: Hermetica