Kemana durasi 3 jam yang Anda miliki mengalir? Oh, selama ini tercecer berserakan dari mulai ke youtube hingga ke bergosip. Hm, apakah Anda punya kemampuan untuk mengumpulkan menit yang Anda miliki untuk ketenangan pikiran dan kenyamanan raga? Paling top kalau Anda bisa mengumpulkan 180 menit, total untuk relaksasi. Lalu Anda bisa bilang; I am the master of my time.
Nervous System
Terus 'ngapain'? Ini salah satu pilihan: Padma Astana Beauty Ritual, 180 minutes, di Padma Spa, Plataran Canggu Resort & Spa Bali. Anda akan rebah tertelungkup, di dalam ruang yang dikelilingi hijau dan rimbunnya Balinese garden. Perjalanan 180 menit dimulai dengan treatment baguan punggung untuk keseimbangan dan relaksasi nervous system. Terapis akan memberikan pijatan dalam kombinasi teknik Asia dan Western . Setelah sekujur raga tertangani, selanjutnya treatment berpindah ke wajah menggunakan white lotus essence untuk mengembalikan kecerahan kulit wajah. Treatment diakhir dengan manicure dan pedicure.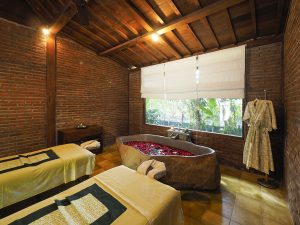 Body Exfoliation
180 menit waktu ini bukan satu-satunya pilihan relaksasi di Padma Spa Plataran Canggu. Ada juga treatment 120 menit Bali Rajakula yang menggunakan teknik pijat khas Bali bernama Sutra. Atau yang 150 menit Padma Matcha Paramita, yang terdiri dari skin treatment, body exfoliation, facial, dan herbal refreshments. Kalau Anda hanya memiliki waktu yang sempit, coba tilik treatment seperti body scraps & wraps, facials, atau massage hands and feet yang umumnya membutuhkan waktu tak lebih dari 90 menit.