Penghargaan Jeweller Watch Prize dari ajang Grand Prix d'Horlogerie de Genève (GPHG) diberikan kepada Serpenti Misteriosi Romani, satu jam tangan misterius yang tersembunyi di dalam sebentuk perhiasan mewah. Serpenti Misteriosi Romani terbuat dari 18 karat white gold, bertatahkan 1 cushion-cut sapphire (10,83 cts), 674 buff-top cut sapphires (32,49 cts), baguette dan pavé-set berlian (63,33 cts) yang menyelimuti seluruh case, bracelet dan dial. Pear-shaped sapphire eyes (0,70 ct). Penghargaan yang diberikan oleh para juri GPHG ini semakin mempopularkan kolaborasi antara keunggulan desain perhiasan khas Italia dengan keahlian Swiss watchmaking, kolaborasi yang mempertemukan keahlian kreatif yang inggil. Jewellery Watch Prize diberikan kepada produk yang mampu mendemonstrasikan kemampuan meleburkan arts of jewellery, fine watchmaking, dan ekspresi artistik, yang benar-benar tampil striking.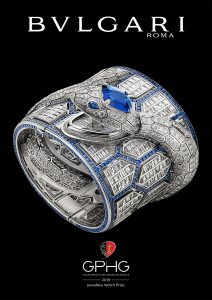 Jam Perhiasan Termahal Dalam Sejarah
Serpenti Misteriosi Romani, karya one-of-a-kind, berbentuk cuff watch yang melingkar mewah di pergelangan. Jam perhiasan ini meletakkan diri sebagai the most expensive high-end timepiece yang pernah dibuat hingga kini, harganya hampir menjangkau 2 juta Euros. Harga ini cukup beralasan karena sejumlah bebatuan mulia yang tertempel di tubuhnya, di bagian kepala serpenti terdapat batu safir 10 karat dari Sri Lankan, kemudian jumlah total berlian yang digunakan lebih dari  60 karat, lalu aksen-aksen batu safir 35 karat di mata serpenti, dan di jejak grafis di badan cuff. Jam perhiasan ini memancarkan kultur Romawi yang kental, bagai perhiasan para gladiator juara, namun ia juga tampak sensual bagai perhiasan para puteri-puteri bangsawan Romawi.
Foto: Bvlgari