Museum Guggenheim genap berusia ke 60 tahun, ini satu perjalanan yang panjang, mulai dari menempati gedung baru sebagai museum di tahun 1959, hingga masuk ke dalam UNESCO World Heritage List sebagai bagian dari The 20th Century Architecture of Frank Lloyd Wright pada bulan Juli 2019. Pencapaian usia ke 60 ini ditandai dengan memberi penghargaan kepada sosok yang sangat berarti bagi Guggenheim yaitu; Frank Gehry, arsitek dari Guggenheim Museum Bilbao dan Guggenheim Abu Dabhi; Peter Lawson-Johnston, honorary chair dari Guggenheim Foundation (cucu dari Solomon R. Guggenheum); Mary Sharp Cronson, pendiri dan presiden dari Works & Process (pemimpin seni pertunjukan di Guggenheim Museum); dan Caroline Cronson, produser Works & Process. Penghargaan dirakan dengan Pre-Party dan Party dalam acara Guggenheim International Gala yang dipersembahkan oleh jenama fashion, Dior.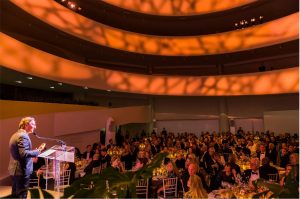 Jaringan Guggenheim International Gala
Pre-Party berlangsung tanggal 13 November, menghadirkan musisi dari Prancis, Christine and the Queen, dan dilanjutkan keesokan harinya dengan acara benefit dinner, yang dihadiri para kolektor, juga selebriti seperti Charlize Theron dan Uma Thurman yang saling mengenakan gaun-gaun Dior. Di luar perayaan ke 60 ini, acara Guggenheim International Gala memang merupakan rangkaian acara tahunan museum, terdiri dari pameran, program pendidikan seni, pengenalan dan pemahan museum terhadap karya seni modern dan kontemporer koleksi Guggenheim Solomon R. Guggenheim Foundation, yang menaungi museum Guggenheim, lahir pada tahun 1937 dengan visi untuk memperkenalkan dan memahami seni modern dan kontemporer melalui pameran, program edukasi, inisiatif penelitian, dan publikasi. Yayasan saat ini memiliki museum yaitu; Solomon R. Guggenheim Museum, di New York; Peggy Guggenheim Collection, di Venice; Guggenheim Museum Bilbao, di Spanyol; dan yang akan segera lahir, Guggenheim Abu Dhabi.
Foto: Dior