Apa yang Anda harapkan dari TV Anda di rumah? Selain memiliki teknologi DVB T-2 untuk menangkap siaran TV digital Indonesia, tentunya juga harus dilengkapi segudang fitur yang dapat memberikan pengalaman menonton yang maksimal. Sepertinya Anda perlu melirik Xiaomi yang baru saja memboyong salah satu produk unggulannya, Xiaomi TV Q1E 55" ke pasar Indonesia.
Dengan hadirnya Smart TV ini, Xiaomi ingin membuktikan komitmen mereka untuk memberikan kehidupan yang #LebihSmart lewat teknologi terkiniya dan beragam fitur yang menarik. Xiaomi TV Q1E 55" menambah jajaran perangkat teknologi yang menggunakan Artificial Intelegence of Things (AIoT). Dan yang lebih menarik, Smart TV dengan ukuran layar yang cukup besar ini dibandrol dengan harga Rp 8.499.000. Ingin tahu apa saja kelebihan Xiaomi TV Q1E 55"? Simak keunggulannya berikut ini.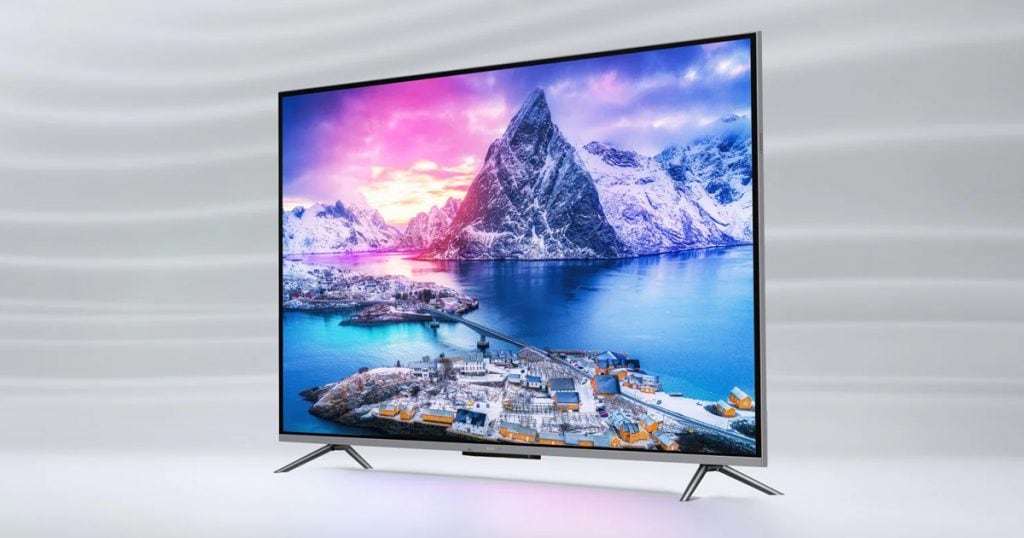 1. Layar Sinematik 55inch yang Mengagumkan
Walau Smart TV ini tidak mengadopsi teknologi OLED, namun Xiaomi mengklaim bahwa perangkat mutakhirnya ini mampu menghasilkan ketajaman gambar yang bermutu tinggi berkat teknologi Quantum Dot-based LED atau QLED 4K. Tak hanya itu, teknologi MEMC hingga 60Hz yang disematkan di dalamnya mampu membuat perpindahan warna dan pergerakan gambar menjadi sangat halus. Kedua teknologi ini akan memanjakan mata Anda dengan hasil gambar yang lebih jernih dan warna yang mengagumkan.
Bicara soal warna, Smart TV ini mempunyai standar warna yang banyak digunakan pada industri film yaitu DCI-P3 mencapai 97% dengan spektrum warna NTSC min 100%. Anda akan disuguhkan pengalaman menonton dengan tingkat akurasi warna yang hampir mendekati nyata. Tak hanya itu, teknologi Dolby Vision® dan HDR10+ mampu memberikan tingkat kecerahan, warna, dan kontras yang lebih baik, sehingga gambar yang dihasilkan terlihat lebih hidup. Anda bisa menonton tayangan streaming di Netflix dengan pengalaman sinematik yang luar biasa.
2. Memiliki Desain yang Estetik
Sebuah TV saat ini dapat menjadi bagian dari perabot rumah yang bisa memberi sentuhan keindahan para ruang keluarga Anda. Karena itulah banyak TV modern yang dibuat dengan desain yang indah untuk menyempurnakan estetika ruangan Anda. Begitu pula dengan Smart TV dari Xiaomi ini. Secara visual, Xiaomi TV Q1E 55" memiliki layar ramping tanpa bingkai, serta sisi bezel dan dudukan yang dibuat dari material berkualitas berbahan alumunium, sebagai sentuhan modern dan memberikan kemewahan tersendiri. Baik Anda meletakannya di sudut ruangan, atau di tengah ruang keluarga, Smart TV ini tampak seperti menyatu dengan perabot Anda yang estetik.
3. Menangkap Siaran TV Digital Lebih Baik
Kini di Indonesia, siaran televisi analog mulai diberhentihkan. Selama beberapa bulan terakhir, pemerintah gencar mencanangkan penggantian siaran analog menjadi digital, atau dikenal dengan analog switch-off (ASO). Hal ini ditujukan untuk memberikan tayangan televisi yang lebih berkualitas dan baik bagi masyarakat luas. Xiaomi TV Q1E 55" merupakan Smart TV pertama dari Xiaomi Indonesia yang mendukung teknologi DVB T-2, yaitu sebuah sistem transmisi terrestial digital yang memungkinkan Smart TV ini mampu menangkap siaran TV digital secara langsung dengan kualitas yang lebih baik. Jadi, Anda tak perlu lagi menggunakan set top box (STB) secara terpisah demi mendapatkan siaran TV dengan kualitas digital yang baik.
4. Dilengkapi Sistem Operasi Android TV 10
Smart TV sebenarnya bukan merupakan sebuah teknologi baru bagi TV modern. Namun, Xiaomi TV Q1E 55" memiliki keunggulan tersendiri dibanding Smart TV pendahulunya, karena TV ini dilengkapi dengan sistem operasi Android TV 10 dan telah memiliki Chromecast. TV pintar ini juga dapat terhubung dengan perangkat lain seperti smartphone, tablet, atau laptop. Melalui sistem operasi ini, Anda bisa mengakses berbagai film maupun aplikasi dengan lebih mudah.
Smart TV ini juga dilengkapi dengan bluetooth remote, di mana Anda bisa menjalankan aplikasi favorit seperti Netflix dan Amazon Prime Video hanya dengan satu sentuhan. Bahkan, tersedia pula Google Assistant yang terhubung dengan Artificial Intelligence of Things (AIoT), sehingga Anda bisa memberi perintah suara untuk mengakses dan mengendalikan perangkat secara praktis.
Semua keunggulan Xiaomi TV Q1E 55" tersebut akan memberikan hidup yang #LebihSmart bagi Anda dan keluarga. Tak hanya nyaman dan praktis, namun juga akan membuat rumah menjadi lebih hidup. Smart TV ini bisa Anda dapatkan dengan harga mulai dari Rp8.499.000 di Xiaomi Store, Erafone, Selected Xiaomi Shop, maupun secara online di toko resmi e-commerce Xiaomi Indonesia.