Menikmati makanan lezat dengan pemandangan sunset dan gemerlap Jakarta di waktu malam, hanya paling tepat di Henshin yang terletak di lantai 67, 68, dan 69, The Westin Jakarta. Pekan ini adalah pekan istimewa bagi Henshin, karena Henshin terpilih masuk di dalam TOP 52 Restaurant and Bars. Ke 52 nama-nama resto dan bar ini dikurasi oleh Marriott Bonvoy, dengan standar 'the best of the best' dining experience di kawasan Asia Pasifik. Pencapaian istimewa ini dirayakan Henshin mulai tanggal 2 hingga 8 September 2019 ini, diawali dengan meluncurkan racikan minuman baru bernama Passion Pinappuruu yang menyegarkan dan 47 Ronin. Dinner set menu dipersiapkan oleh Chef Ivan Casuol dan Sandro Medrano yang berasal dari Peru. Mereka berkolaborasi dengan Chel Rafael Gil yang diundang dari Keraton at The Plaza Luxury Collection Hotel Jakarta, Chef Rafael berasal dari Brazil. Sajian makan malam istimewa tersedia mulai dari tanggal 5 hingga 8 September 2019 saja.

Terbuka Dengan Sepenuh Hati
"Kami sungguh sangat gembira bisa terpilih di dalam Top 52 Restaurants and  Bars by Marriott Bonvoy. Menciptakan dining experience yang tak terlupakan untuk semua tamu memang sudah menjadi komitmen kami. Penghargaan ini membuat kami semakin yakin bahwa kami  sedang melakukan sesuatu dengan sepenuh hati dan kami terbuka untuk perkembangan diri kami agar lebih baik lagi", ujar Arun Kumar – General Manager. Selama pekan selebrasi ini, Henshin mengadakan kontes instagram, mulai tanggal 2 hingga tanggal 8 September. Tamu bisa memunggah foto yang menggambarkan pengalaman mereka di Henshin, menuliskan caption yang menarik, dan menyertakan tagar #DiscoverTop52 #MarriottBonvoy  dan tautkan akun @henshinjakarta  @marriottasiafb.  Henshin menyediakan hadiah dining certificate seharga Henshin menyediakan USD 250.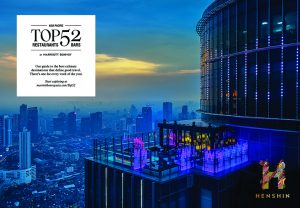 Foto: Henshin