Kolaboorasi, yang saat ini merupakan formula ampuh sebagai strategi berjualan, semakin melebar bukan hanya dalam dunia fashion dan desain saja. Tapi masuk juga ke dalam industri f & b (food & beverage). Dan The Hervest, sebagai salah satu jenama pastry & bakery paling dikenal di Indonesia, menjadi yang pertama melakukan kolaborasi ini. Kolaborasi khusus untuk edisi Hari Raya Lebaran ini menggandeng penyanyi & musisi Bunga Citra Lestari atau BCL.
Kolaborasi ini lahir dari jeli-nya mata team The Harvest dalam melihat kesukaan BCL memasak terutama pastry dan cake. The Harvest kemudian meminang BCL untuk berbagi "selera" untuk berkolaborasi dalam membuat beberapa jenis cookies dan cake. Yang mana ini dibuat dalam rangka menyambut Hari Raya Lebaran tahun 2021 ini. Kolaborasi yang dinamakan dengan Bake With Love ini terdiri dari tiga jenis produk, dua berupa hampers dan satu varian cake ikonik The Harvest, Opera Cake. Sementara hamper, yang dinamkan dengan Bless Hamper by BCL berupa keranjang rotan yang berisi cookies best seller dari The Harvest dan pashiman Rumah BCL. Sementara yang satunya adalah sebuah box fancy yang dinamakan dengan Love Box by BCL.
Cookies yang terdapat dalam hamper tersebut juga merupakan hasil dari berbagi "rasa" BCL untuk kolaboorasi ini. Terdiri dari dua macam cookies, Nastar Kurma Cookies dan Almond Cookies. Untuk Opera Cake, BCL melakukan make over secara visual pada tampilan cake tersebut. Termasuk dalam pemilihan palet warna untuk packaging dan desain, BCL juga terlibat agar seluruhnya terlihat mewakili personality dan identitas rasa BCL.
Koleksi kapsul kolaborasi ini merupakan awal dari strategi The Harvest yang kini memiliki wajah baru dalam konsep branding dan pemasaran, dan ini bisa dikatakan sebagai yang pertama dan pionir. Selanjutnya, akan lahir lagi kolaborasi-kolaborasi lain yang inovatif dari The Harvest. Apakah langkah ini akan diikuti oleh jenama cake & pastry lain di Indonesia?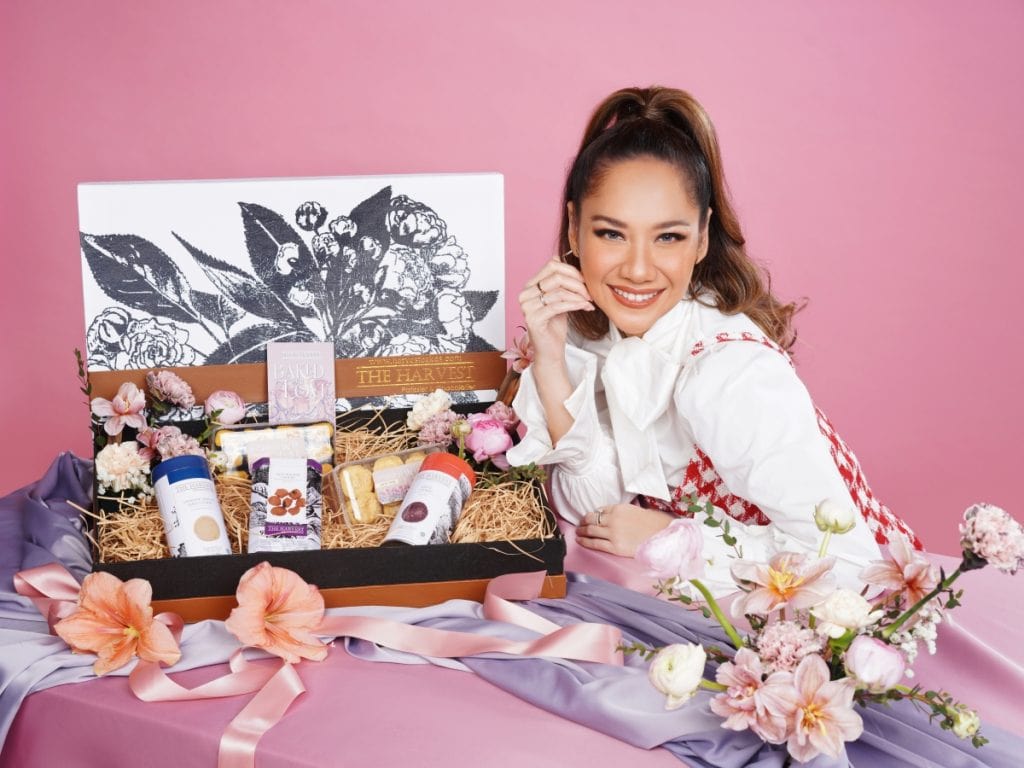 Foto dok. The Harvest