Getar dan semangat kota New York yang tidak pernah tidur diserap oleh Executive Chef Felix Budisetiawan, lalu Chef Felix bersama timnya mengolah pesona kota Big Apple menjadi sajian gourmet buffet dengan tema I love New York Super Brunch yang diciptakan khusus hanya pada tanggal 27 Oktober 2019 di The Jakarta Restaurant (11.30 sampai 15.30), The Dharmawangsa Jakarta. Sajian yang akan dihidangkan diciptakan untuk siapa saja yang benar-benar ingin menghabiskan hari minggu dengan santai berselera, di tengah-tengah suasana The Dharmawangsa yang elegan dan sejuk. Coba nikmati Waldorf salad, egg Benedict, lobster Newberg, Manhattan clam chowder, hamburger, dan NY Cheesecake.
Bertukar Cerita Hingga Kenyang
Pengalaman brunch sampai kenyang ini belum selesai dengan manis jika belum merasakan aneka hidangan dessert yang diciptakan oleh tim pastry. Sambil 'ngobrol' dan bertukar cerita-cerita hangat dengan teman, suasana The Jakarta Restaurant akan terdengar elegan karena akan ditampilkan hiburan live acoustic yang akan memainkan lagu-lagu khas New York dan lagu-lagu music score dari film-film yang berlokasi di New York. Unlimited flow Moet Chandon champagne juga disiapkan untuk melengkapi hari minggu yang tak terlupakan. It's up to you, New York, New York.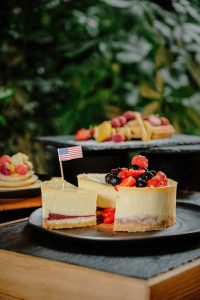 Jakarta Restaurant & The Courtyard
Jakarta Restaurant & The Courtyard, berlokasi di sisi kanan area lobi dari pintu masuk The Dharmawangsa, diciptakan secara kontemporer dari suasana kota tua Jakarta. Walau terkesan bergaya kolonial restoran ini bersuasana santai, stylish dan nyaman, menyajikan makanan tradisional otentik Indonesia, dan juga makanan Asia serta Western yang disajikan a la carte dan buffet. Pada hari-hari biasa restoran melayani tamu mulai dari jam 6 pagi hingga sebelas malam, menyajikan breakfast, lunch, dan dinner. The Courtyard, diciptakan untuk para coffee lovers, di bawah naungan Alfresco dan hiasan tanaman-tanaman hijau yang menyejukkan mata. The Courtyard buka setiap hari dari jam 11.00 siang hingga 23.00 malam.
Foto: The Dharmawangsa Jakarta