Apa yang baru di Jakarta? The Langham, Jakarta mempersembahkan konsep grand café, ALICE, sebagai tujuan kuliner, tempat bersantap baru dengan ragam pilihan brunch setiap hari, tradisi afternoon tea yang elegan, dan makan malam yang istimewa. Terinspirasi dari novel terkenal sepanjang masa karya Lewis Carroll, Alice's Adventures in Wonderland, yang terbit pada tahun sama dengan berdirinya hotel flagship The Langham, London pada 1865, ALICE dikenal dengan konsep playful, namun tetap menawarkan sentuhan gaya elegan dari pilihan makanan dan minuman yang disediakan pada interior mewah dengan konsep Art Deco, sembari mendengarkan alunan musik pilihan lagu-lagu Perancis. Terletak di kawasan bergengsi SCBD, ALICE telah resmi dibuka pada 9 Maret 2022. "ALICE membawa lebih dekat budaya klasik afternoon tea dari Inggris sebagai tujuan kuliner untuk merayakan setiap momen berharga sepanjang hari dengan orang tercinta," kata Alexander Poindl, General Manager The Langham, Jakarta.
Afternoon tea dan hidangan klasik Inggris
Menggabungkan afternoon tea yang otentik dengan sentuhan modern, ALICE menjadi rumah bagi penikmat afternoon tea set LANGHAM dan ALICE. Pilihan hidangan menggiurkan untuk makanan manis dan asin cocok menemani sore bersama orang tercinta. Hidangan pembuka untuk jenis makanan asin dari kedua set afternoon tea ini memiliki kesamaan dengan menghadirkan kue khas Perancis, Smoked Salmon Vol Au Vent dan Brioche Truffle Egg Topped with Caviar, selain itu ALICE juga mempersembahkan Beef Pot Pie, hidangan klasik dari Inggris yang merupakan resep turun-menurun dari Ibu Chef Giles Langford, Executive Sous Chef The Langham, Jakarta. Terdapat Wagyu Beef Tartare, hidangan yang tidak dapat dilewati dan merupakan sajian khas bistro Paris. Bagi para pecinta hidangan laut, terdapat bahan musiman yang dikemas dalam Lobster Doughnut ukuran pas satu gigitan yang akan melengkapi jajaran hidangan asin dari set afternoon tea di ALICE. Khusus hidangan manis, terdapat berbagai inovasi untuk set afternoon tea modern ala ALICE. Ragam hidangan manis yang dapat dinikmati antara lain Valrhona Chocolate dengan cokelat yang meleleh di setiap gigital dan Rose Macarons warna merah mudah yang menutup sesi afternoon tea dengan manis dan mengesankan.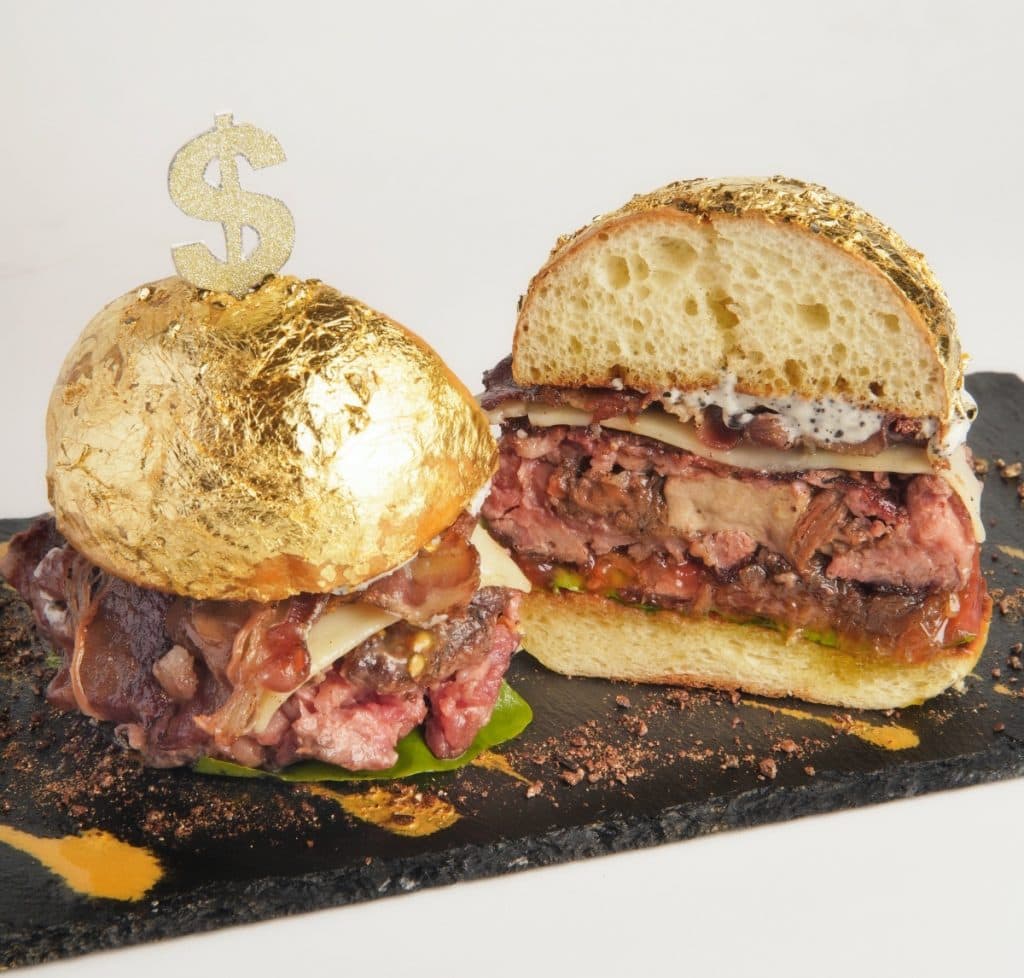 Kudapan berlapis emas 24k
Afternoon tea yang legendaris ini telah disajikan lebih dari 150 tahun yang lalu di The Langham, London dilengkapi dengan pilihan teh mulai dari Earl Grey dengan aroma segar, teh Rooibos dengan aroma buah-buahan, teh hitam dengan empat rasa buah, teh hijau sencha fukuyu dan teh melati, dan cocktail. ALICE juga menjadi tempat sempurna untuk berkumpul dengan tambahan pilihan kopi premium dengan biji kopi pilihan Langham dengan menggunakan alat khusus Syphon Gold dan mesin Aeropress untuk pembuatan kopi secara konsisten. Segelas koktail buah segar; sebotol sparkling atau Champagne juga cocok untuk dipasangkan dengan afternoon tea dalam suasana Grand Cafe ALICE yang indah. Para tamu juga diundang untuk menikmati pengalaman mewah lain di ALICE dengan menikmati makanan favorit sepanjang masa, burger Billionaire yang disajikan saat makan siang dan makan malam. Koki akan membuat daging yang merupakan campuran dry aged beef berumur 30 hari yang foie gras serta wagyu sapi klasik yang dilapisi dengan Truffle Aioli. Chef juga menambahkan sentuhan akhir dengan melapiskan emas 24K yang dapat dimakan.