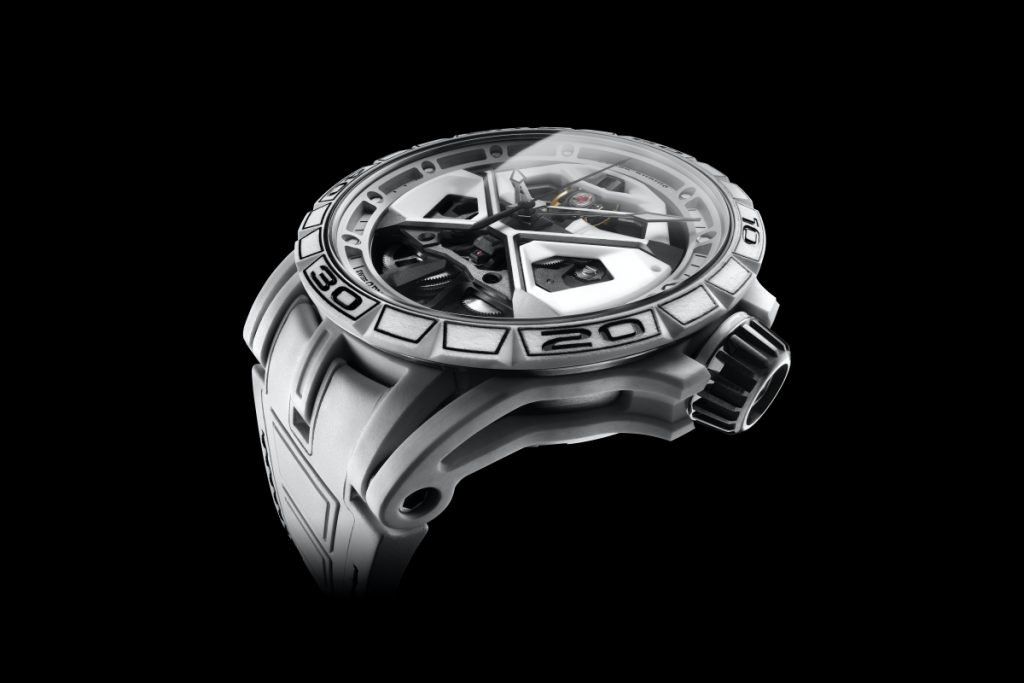 Chunky, tebal tapi ringan. Ini yang menjadi nilai utama pada Excalibur generasi terbaru yang dinamakan Roger Dubuis Excalibur Spider Huracán. Jam tangan ini dibuat dari material ringan yang baru ditemukan yang dinamakan dengan CCF atau Ceramic Composite Fibre.
Apa kelebihan dari CCF ini? Material ini merupakan perpaduan antara resin dengan serat ceramic, yang menghasilkan suatu material baru dan 20% lebih ringan dari carbon. Yang bonus dari perpaduan kedua ini adalah tekstur yang mirip dengan marmer putih sehingga menambah nilai estetika pada jam tangan ini. Ringannya jam tangan ini juga ditambah dengan kenyamanan ketika dipakai di pergelangan tangan, dan tentu saja, desainnya yang sangat mencuri perhatian ketika dipakai.
Jam tangan berukuran 45mm ini ( cukup besar ) merupakan hasil kreasi gabungan antara Roger Dubuis dengan Lamborghini Squadra Corse, yang mana keduanya mengutamakan performa dan estetika yang tajam dalam membuat apapun. Jadi, jam tangan ini merupakan frefleksi dari DNA supercar Italia yang dikombinasi dengan kesempurnaan horologi Roger Dubuis.
Elemen Lamborghini terlihat jelas pada desain dial yang menyerupai tengkorak, padahal mengambil bentuk honeycomb dan garis desain dashboard yang berbentuk hexagonal. Kelebihan lain dari jam tangan ini adalah fitur glow in the dark berupa garis hijau pada bazel, titik indikator jam, jarum jam dan pada garis tengah dial yang menghasilkan garis silang X. Efek glow in the dark tersebut menggunakan SuperBiwiNova® yang diproses dengan cara vulkanisasi ke dalam badan jam tangan.
Jam tangan dengan movement RD630 Calibre otomatis ini dibuat hanya sebanyak 88 buah saja di seluruh dunia.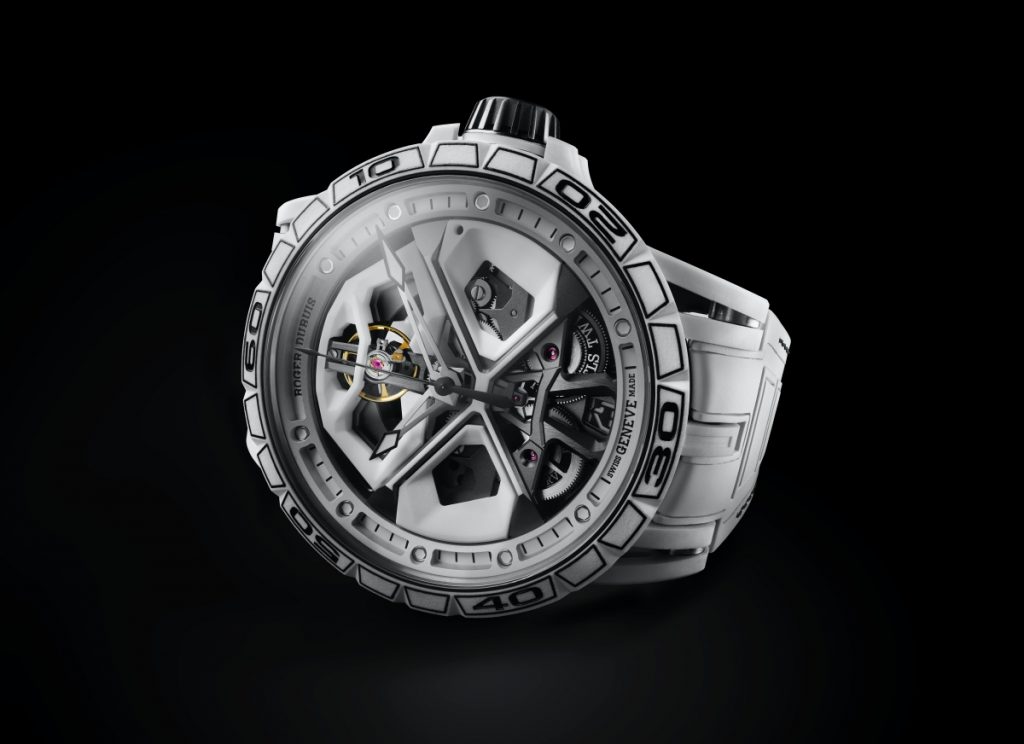 Foto dok. Roger Dubuis