Jam tangan TAG Heuer Carera adalah salah satu keluarga TAG Heuer yang paling sering "diutak-atik" sehingga terus melahirkan generasi baru. Dan di Watches and Wonders Geneva 2022 ini, Carera lahir lagi dengan suntikan DNA baru yang belum pernah ada dan membuat tercengang dengan nama TAG Heuer Carera Plasma.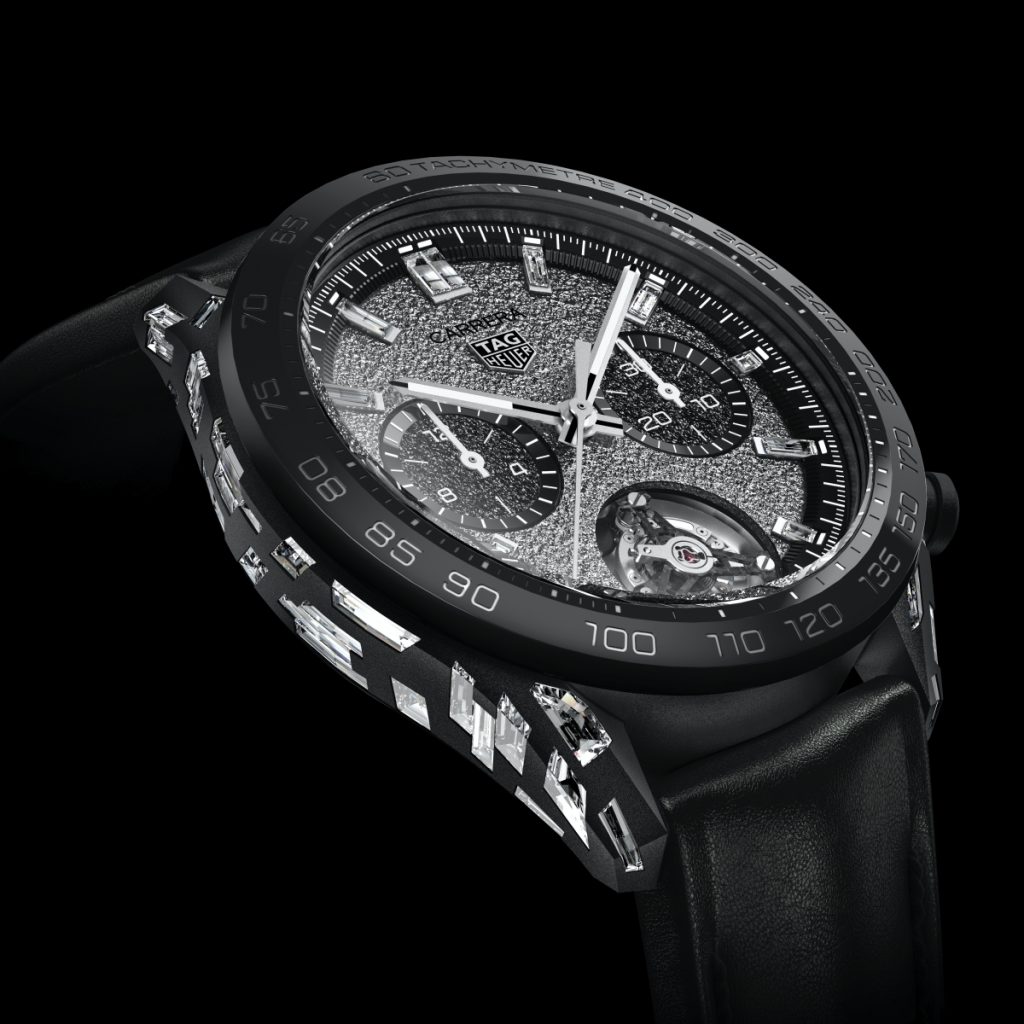 Jam tangan ini hadir ini dalam rangka merayakan 160 tahun keberadaa TAG Heuer di industri horlogeri dunia. Di Carera Plasma ini pula, TAG Heuer benar-benar terbang tanpa batas pada sisi desain dan permainan material yang belum pernah digunakan sebelumnya. Dengan hadirnya koleksi ini. akan membawa TAG Heuer ke tingkat yang lebih tinggi sebagai pembuat jam tangan luxury. Sebagai informasi, saat sesi key note di Watches and Wonders Geneva 2022, Frédérick Arnault, CEO TAG Heuer, mengatakan akan memproduksi jam tangan ini lebih dari satu dan kurang dari dua belas buah. Apa keistimewaan jam tangan ini?
Yang membuat jam tangan ini luar biasa adalah, penggunaan berlian yang tidak biasa dan belum pernah ada sebelumnya, bahkan pada jam tangan jenama lain. Kemudian penggunaan bahan sandblast black anodised aluminium pada case yang ditanam dengan butiran berlian berpotongan baguette. Penggunaan berlian ini juga terlihat pada bar indeks penunjuk waktu dan crown jam tangan. Khusus pada crown, berlian diasah sedemikian rupa berbentuk crown jam tangan dengan ukiran logo TAG Heuer dan membuatnya terlihat kontras dan bersinar diantara case hitam pekat. Jam tangan berukuran 44mm ini menggunakan semacam lempengan tembaga atau rhodium – plated brass yang ditutup dengan butiran berlian yang sangat halus seperti pasir yang disebut polycrystalline diamond, sehingga menghasilkan efek kilau yang menyebar dan bertekstur pada dial. Jarum jam dan menit menggunakan polished rhodium – plated dengan lapisan superluminova putih.
Pada kesempatan touch & feel TAG Heuer di Watches & Wonders, jam tangan ini tidak dikeluarkan untuk dilihat dan disentuh, hanya komponen crown yang terbuat dari berlian serta miniatur movement tourbillon yang digunakan, yaitu HEUER02 Tourbillon Nanograph dengan sertifikasi COSC. Jam tangan ini memiliki fungsi jam, menit, detik, menit chronograph di posisi pukul tiga dan jam chronograph di posisi pukul sembilan. Untuk strap menggunakan material kulit warna hitam dengan buckle lipat yang terbuat dari titanium. Berapa kira-kira harga jam tangan ini?
Foto dok. TAG Heuer