Margot Robbie benar-benar menjadi mega bintang tahun ini, setelah bersinar benderang di film Once Upon A Time in Hollywood, kemudian saat ini sedang membintangi dan memroduseri sendiri film Birds of Prey, kini Margot Robbie kembali menjelma penuh pesona, ia mendapat telpon dari Paris untuk membintangi parfum Gabrielle Chanel. Parfum yang diluncurkan pada bulan Juli tahun 2017 (setelah 14 tahun Chanel tidak melangsir parfum) ini, awalnya dibintangi Kristen Stewart.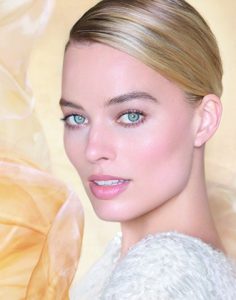 Glamornya Margot Di Mata Nick Knight
Margot Robbie berasal dari Dalby, kota kecil berjarak sekitar 3 jam perjalanan darat ke sebelah barat kota Brisbane di Queensland, Australia. Ia memulai karir sebagai aktris soap opera di Australia, lalu pindah ke Hollywood untuk mengikuti berbagai audisi. Film pertama yang mengangkat nama Margot lumayan berkaliber prima, ia menjadi pasangan Leonardi Di Caprio di dalam fim The Wolf of Wall Street, arahan Martin Scorsese. Untuk tampil di kampanye terbaru Gabrielle Chanel, Margot diarahkan oleh Nick Knight, sutradara yang pernah membuat video musik Björk, Lady Gaga, dan Kanye West. Nick membuat Margot sangat glamor, berputar-putar di pusaran bunga-bunga dari esensi parfum Gabrielle Chanel, mencerminkan pesona old Hollywood glamor, namun tetap relevan dengan pilihan lagu dari Beyoncé, Halo.
I Decided Who I Wanted To Be
Kampanye ini melanjutkan kisah Gabrielle Chanel yang telah dibangun, wangi yang menebarkan semangat kehidupan dan kepribadian Coco Chanel, wanita yang berani mendobrak kungkungan sosial dan memilih jalan hidup pribadi yang ia inginkan. "I decided who I wanted to be, and that is who I am," ujar Coco Chanel. Sikap-sikap ini kini terpancar dari sosok Margot Robbie, wanita yang berani menemukan dirinya sendiri dan menunjukkannya ke siapa saja dengan percaya diri. Margot Robbie menjadi role model untuk setiap wanita modern.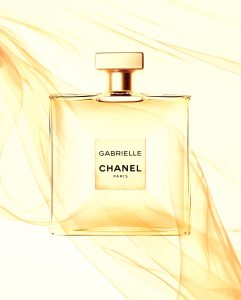 Ringan Dan Nyaman
Komposisi parfum Gabrielle Chanel ini tergolong ringan dan cerah, lebih ringan dari parfum Coco Mademoiselle Chanel. Lembut dengan perpaduan bunga-bunga seperti tuberose (sedap malam), ylang-ylang, melati, dan orange blossom. Setelah disemprotkan selama satu jam, aroma bergeser menjadi lebih hangat dan creamy dari sisipan vanilla dan musk. Gabrielle Chanel cukup sesuai dan ringan untuk siang hari, pas dan friendly untuk ke kantor. Parfum ini dilengkapi dengan cara lain untuk wewangian, yaitu Gabrielle Chanel Eau de Parfum yang didesain untuk travel-friendly, lalu Gabrielle Chanel Twist and Spray yang berukuran 20ml, dan satu lagi Gabrielle Chanel Hair Mist.