Salah satu luxury watch yang paling ikonik sepanjang masa adalah Santos de Cartier. Tampilannya sangat flamboyant, ini jam yang paling kuat berkesan gentleman, kadang digolongkan juga sebagai jam para playboy di French Riviera, playboy yang elegan dengan keanggunan 12 angka Roman numeral. Santos de Cartier dianggap sebagai jam tangan pertama yang didesain sebagai wirstwatch, dipesan oleh seorang gentleman legendaris di dunia penerbangan Alberto Santos-Dumont kepada Louis Cartier pada tahun 1904. Santos membutuhkan jam tangan yang simpel, praktis, tapi elegan untuk ia nikmati ketika mengudara. "I fly to escape society and think", begitu salah satu quote dari Santos menanggapi kenekatannya menjelajahi udara, menaklukkan langit, melawan gravitasi, sembari menguji coba pesawat-peawat baru.
Legacy Dari The Legend
Legacy penerbang Alberto Santos-Dumont dan wristwatch pesanannya kepada Louis Cartier dikembangkan lagi dengan Santos de Cartier collections, yang salah satunya bernama New Santos-Dumont. Seri ini tampil lebih berwibawa hasil dari penyederhanaan desain, diikat dengan alligator leather strap berwarna abu-abu, hitam, dan navy. Case terbuat dari emas, baja, dan kombinasi emas dan baja. Detail 8 mur yang tampak di permukaan menjadi signature desain, crown pengatur waktu bermata batu cabochon biru. New Santos-Dumont sangat stylish, sembari mengenakan bowler hat atau fedora, waistcoat, kemeja wing collar, tipikal gaya penampilan Alberto Santo-Dumont, atau sekadar dark polo shirt, jeans dan driving shoes untuk mewakili gentleman era unicorn. Inovasi yang diberikan Cartier untuk New Santos-Dumont ini berupa high-efficiency quartz movement yang bisa menjangkau 6 tahun, dua kali dari tenaga movement jam tangan yang lain. Untuk mencapai inovasi ini, Cartier Manufacture membuat reka ulang kinerja dan ukuran Santos de Cartier, agar bisa mengurangi konsumsi energy, dengan tambahan batere high-performance.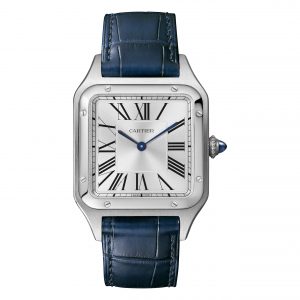 Foto: Cartier