Keabadian pun bisa berganti, ke sesuatu yang lebih segar, lebih manly. Ingat parfum Eternity for Men dari Calvin Klein yang muncul di tahun 1989 dan menjadi legenda? Parfum tersebut di bulan September ceria ini mendapat versi baru, Eternity for Men Eau de Parfum. Kalau kala itu Calvin Klein memilih supermodel Mark Vanderloo sebagai model Eternity, tahun ini Calvin Klein memilih sosok Jake Gyllenhaal, aktor yang dikenal dalam film Jarhead, Brokeback Mountain, Prince of Persia , dan Spider-Man Far From Home. Jake memang sesuai dengan frase yang dihembuskan Eternity kali ini, 'masculine but sensual', 'robust but refined', 'a celebration of the masculine and multifaceted modern man'.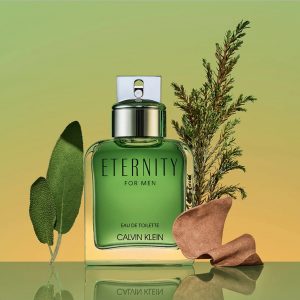 Standar Wangi Lelaki Eternity
Level baru maskulinitas sebuah parfum di dalam Eternity ini berpijak dari esensi sari tumbuhan Fougère, ditambahkan dengan kehangatan woody. Top notes, hadir dari komposisi Sage, Ozonic Notes, Pamplezest, dan esensi apel. Heart notes, terdiri dari Geranium, Majestic Cypress, Nutmeg, Lavandin. Base notes, Suede note, Orris, Vetivre, Ambergris, dan Cypriol. Kemasan disiapkan berukuran 50 ml dan 100 ml.