Koleksi pertama Chanel tanpa Karl Lagerfeld sudah diluncurkan dalam presentasi Chanel Cruise 2020 yang dipimpin oleh Virginie Viard, hasilnya cukup datar. Memang tidak mudah untuk bisa mengimbangi atau setidaknya berada dua level dibawah kedigjayaan Coco Chanel dan Karl Lagerfeld. Bayang-bayang mereka terlalu besar, kreasi Viard untuk koleksi Chanel terbaru ini tampak seperti hasil remake dari kumpulan arsip Chanel.
Right, Left, Brain
Karl menyebutkan bahwa baginya Virginie Viard adalah "my right and my left arm', sebuah statement yang diberikan karena secara teknis Viard bisa mengeksekusi semua inovasi desain Karl dengan craftmanship yang prima. Namun, predikat sebagai 'the right and the left arm' tetaplah bukan sebagai 'the brain', elemen paling penting dalam menghasilkan inovasi dan 'ilmu tabrak ide' yang selama ini dilakukan Karl untuk Chanel.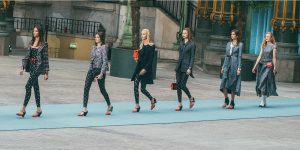 Inilah karakter yang akan hilang apabila Chanel tidak menemukan 'the brain' yang tepat:
Boldness: Keberanian berinovasi yang out of the box, misalnya serapan dunia antariksa ke dalam fashion, clutch dari lego, hula hoop bag, Chanel dan kultur Harley Davidson, hal-hal yang menciptakan news value.
Solid theme: Ide yang solid, fokus pada satu titik imajinasi, misalnya ketika Chanel menghadirkan budaya Mesir dan Piramid, Cowboy, India, Kutub Utara.
Fashion politic: Fashion show spring 2015 bergaya demonstran menyuarakan gender equality. Chanel haute couture show 2018 mengajak model Adut Akech model asal Sudan Selatan yang tinggal di Kakuma refugee camp di Kenya, lalu pindah ke Adelaide, dan memulai karir model umur 15 tahun di Autralia, dan digenggam Karl sebagai model finale pada fashion Chanel haute couture.
Foto: Courtesy of Chanel