Travel sebagai bahan ide untuk parfum? Biasanya langsung terpikirkan wewangian yang identik dengan tempat-tempat tujuan wisata, tapi ternyata pemikiran ini terlalu dangkal, klise, ada yang lebih mendasar untuk ide tetesan parfum dari sekadar sebuah tujuan wisata. Pemikiran tersebut lahir dari tiga orang traveler dari Perancis, bernama Luc Gabriel, Emilie Coppermann, dan Alexandra Monet (mereka juga pernah bekerja di perusahaan parfum The Different Company), bagi mereka esensi travel bukanlah semata tentang tempat yang dituju, melainkan tentang jalan yang ditempuh menuju tempat yang dituju, emosi dan excitement di dalam perjalanan ketika mengejar satu titik tujuan.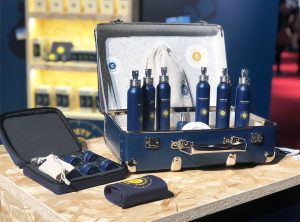 Eco-Responsible Yang Wangi
Dari pemikiran tersebut ketiga traveler ini mendirikan jenama wewangian Wide Society di tahun 2018, mengusung etika eco-responsible, menggunakan 100% organic alcohol dan bahan-bahan mentah alamiah. Dikemas dengan bahan daur ulang alumunium, gelas, katun, cardboard untuk packaging. Bebas dari plastik tik. Wide Society terdiri dari 6 fragrance, unisex, berisi absolus de parfum, lebih concentrated dan intense sehingga parfum bertahan lebih lama. Keenam parfum disediakan dalam 3 formasi; The Escapade terdiri dari 3 botol parfum ukuran 10 ml yang dikemas di dalam cotton case, The Weekender terdiri dari 6 botol parfum ukuran 10 ml yang dikemas dalam linen pouch; The Backpacker terdiri dari 1 botol ukuran 100ml. Enam parfum yang ditawarkan Wide Society adalah:
Acqua Travelis: wangi anti jet-lag setelah berjam-jam perjalanan. Memompa mood untuk lebih bersemangat, refresh, memberikan zen space pada indra. Terdiri dari paduan Bergamot yang menenangkan, Verbena untuk menghalangi insomnia, dan Mint yang bersensasi dingin.
Up in the Air: Traveling penuh semangat, mantap dengan unsur wangi leather yang mewah, berkombinasi dengan Rum, Pepper, Birch, Wood, Vanilla, Saffron, dan seberkas Iris Pallida. Up in the Air bagaikan leganya udara traveling, joyful.
​Sign of Times: Waktu begitu berharga bagi seorang traveller, maka dibutuhkan suasana cozy, senyaman suasana yang bersifat personal. Maka temukanlah aroma Cashmere Wood, Grapefruit, daun Sage, Lebanon Cedarwood, Amber, Incense, dan musk. Komposisi aroma ini membantu kesan perjalanan terasa akrab dengan diri sendiri.
Nubes: Terinspirasi dari perjalanan dengan kereta El Tren a las Nubes di Argentina, cenderung misterius, namun ringan dan menyenangkan. Aroma herbal dan musky dari paduan Angelic Roots, Bergamot, Violet, Iris, Cyclamen, Vetiver, Myrrh, dan balsamic notes.
Suite #6: Sensual dan nyaman setelah seharian berpetualang, dan siap untuk menyambut datangnya malam. Diawali dengan kelembutan Nashi Pear, lalu Hazel Leaf dan Sambac Jasmine, Heliotrope Benzoin, Sandalwood dan Vanilla.
Night Train: Lebih sensual, elegan, dan attractive. Paduan aroma floral seperti Rose Absolute, Rose Essence, Sambac Jasmine dan Patchouli, serta Musk. Malam-malam akan sangat mengesankan di tengah-tengah alam.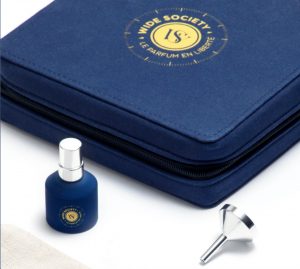 Foto: Wide Society, Khusus