Presentasi koleksi terbaru Lanvin diadakan jelang detik-detik corona outbreak di akhir Februari, berlangsung pada satu pagi dengan lokasi di pabrik tua pembuatan permadani Manufacture des Gobelins di Paris. Suasana mulai terasa bahwa siapa pun yang diundang mengambil sikap hati-hati, tidak ada lagi 'Ca va? Ca va?' yang berlanjut dengan salam hangat cheek to cheek. Para editor, Buyers, fotografer, fokus pada pekerjaan masing-masing, belum ada tampak satu orang pun yang memakai masker, warna-warna lipstick mereka yang toned down namun ter set-up glossy samar masih bebas merona. Dan ketika presentasi dimulai, undangan semakin hening, menyaksikan betapa aksesori-aksesori yang dihadirkan Lanvin untuk koleksi fall/winter 2020 sangat menarik, sudah langsung membuat mata membesar, terutama tas-tas yang dijinjing bersama gaun-gaun khas Lanvin.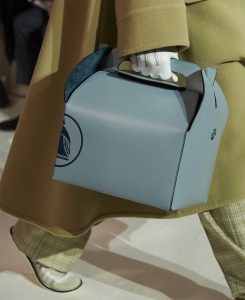 Daily Life, Instagram, dan Lanvin
Tas-tas tersebut membahasakan 'daily life' dan 'instagram culture', salah satunya adalah Parisian patisserie box, kotak roti yang ditempa mengenakan bahan leather lembut dengan pilihan warna cokelat bata, broken white, dan dusty turquoise. Yang berukuran besar, paslah untuk memasukkan perlengkapan penting semacam hand sanitizer, powerbank, dompet, tissue, dan buku terbaru Danielle Steel yang baru saja memasuki The New York Times Best Seller minggu ini, The Numbers Game. Jangan lupa juga masukkan sepotong brioche. Untuk ukuran yang lebih kecil, sangat menggemaskan, bisa saja terduga berisi empat cinnamon roll, padahal ternyata berisi dua smartphone dan kartu-kartu debet. Selain tas patisserie box ini, ada juga clutch kecil bersiluet compact powder, dan susunan tutup botol parfum. Kemudian tas-tas retro bersiluet super elegan, terlihat modern dengan tambahan strap minimalis. Bruno Sialleli, creative director Lanvin, terlihat mulai menguasai misi dan aura Jeanne Lanvin dalam menciptakan perlengkapan fashion.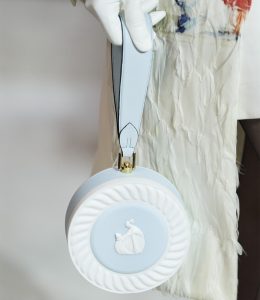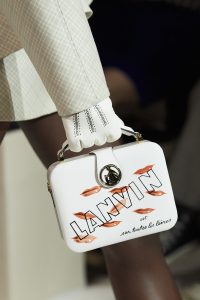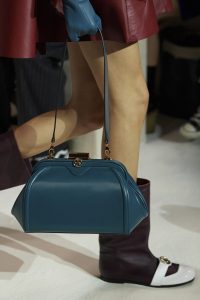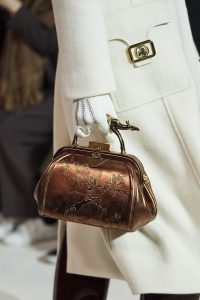 Foto: Lanvin