Sedekade belakangan ini industri fashion terkocok oleh pola selera fashion milenial, belum lagi kocokan reda, sudah muncul the next wave of shopper, dari kelompok Gen Z (generasi yang lahir tahun 1995 ke 2003), generasi yang bakal menjadi kekuatan besar di dalam gerak ekonomi. Bagaimana jenama fashion besar menghadapi masalah ini? Terutama jenama seperti Chanel, jenama besar yang identik dengan Paris sehingga terkesan klasik. Luxina pernah bertanya kepada pada seorang gadis (umur 16 tahun, professional dancer, pemuja Normani, Kyle Jenner, dan Billie Eilish, dengan follower IG hampir 70 ribu orang) bagaimana pendapatnya tentang Chanel? Bukannya menjawab, malah dia sama sekali tidak tahu apa itu Chanel. Wah, cukup mendebarkan juga apabila ada satu generasi yang tidak tahu brand yang sangat besar tersebut. Chanel memang membawa rapper dan songwriter Pharrell Williams sebagai duta penyentuh generasi Y (milenial) dan generasi Z, namun Pharrel lahir tahun 1973 dari Generasi X, sementara Normani lahir tahun 1996 dan Billie Eilish lahir tahun 2001 (murni Gen Z). Lalu apa yang dilakukan Chanel?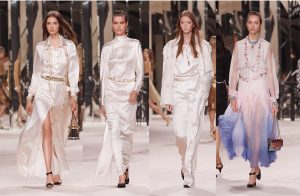 Bagaimana Memuaskan Gen Z?
"Fashion changes but style remains," begitu sabda terkenal dari Gabrielle Coco Chanel (1883-1971), sabda yang dipegang teguh oleh Virginie Viard, creative director jenama Chanel saat ini. Viard memeras intisari dari style yang dimaksudkan oleh Chanel, bertahan pada Chanel code yang diformulasikan Chanel sejak sebelum perang dunia pertama, dan membuatnya relevan untuk market saat ini. Ini bukan hal yang sulit bagi Viard, "I have completely absorbed the Chanel codes. I saw Karl twist them so much. I have grown up here. I am a child of Karl and Gabrielle," ujar Viard pada siaran pers yang dibagikan. Ini sebenarnya cukup menyenangkan bagi Gen Z, atau generasi apa pun yang masih hidup dan mengerti value pada sebuah brand, karena mata dan tangan Viard adalah perpanjangan imajinasi dua master, Coco Chanel dan Karl Lagerfeld, dengan hasil akhir berupa sosok modern woman yang realistis. Viard mempertahankan style code dari Coco seperti cara berpakaian yang mudah dan nyaman, tidak terlalu mengumbar femininitas dan sensuality, dan menghindari warna high contrast (kecuali hitam dan putih). Sedikit menyerap twist yang selalu dimainkan Karl Lagerfeld, seperti shirt dress dengan shirt yang benar-benar berpola kemeja, coat dress dengan ornamentasi beads horizontal di pinggang bagai seolah coat terbagi dua, pencil skirt tanpa ban pinggang namun diberi chain belt yang melingkar usil di atasnya.
Chanel Métiers D'Art 2019-2020
Attitude Gen Z salah satunya dimunculkan dari elemen seperti sweater dengan tulisan Chanel 31 Rue Cambon, sweater santai yang dikenakan dengan long skirt lebar dengan saku sembunyi. Angka ini bukan sembaran angka kecentilan, ini adalah alamat apartemen legendaris Coco Chanel yang terletak di belakang hotel Ritz Paris. "Because it's such a welcoming space. I love the huge sofa in beige suede. Karl liked to surround himself with deep divans too. In fact, Gabrielle Chanel's apartment reminds me of Karl's first apartment that I knew, where one would sit on four-poster beds disguised as sofas. So, for this Métiers d'art collection, I wanted it to revolve around Gabrielle Chanel's apartment," ujar Viard menjelaskan alasan kenapa untuk presentasi koleksi Métiers d'art kali ini ia membuat replika apartemen lengkap dengan tangga dan susunan kaca bergaya art deco sebagai back drop peragaan busana. Replika dibangun di Grand Palais, paris.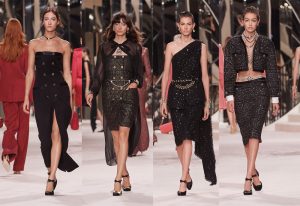 Foto: Chanel