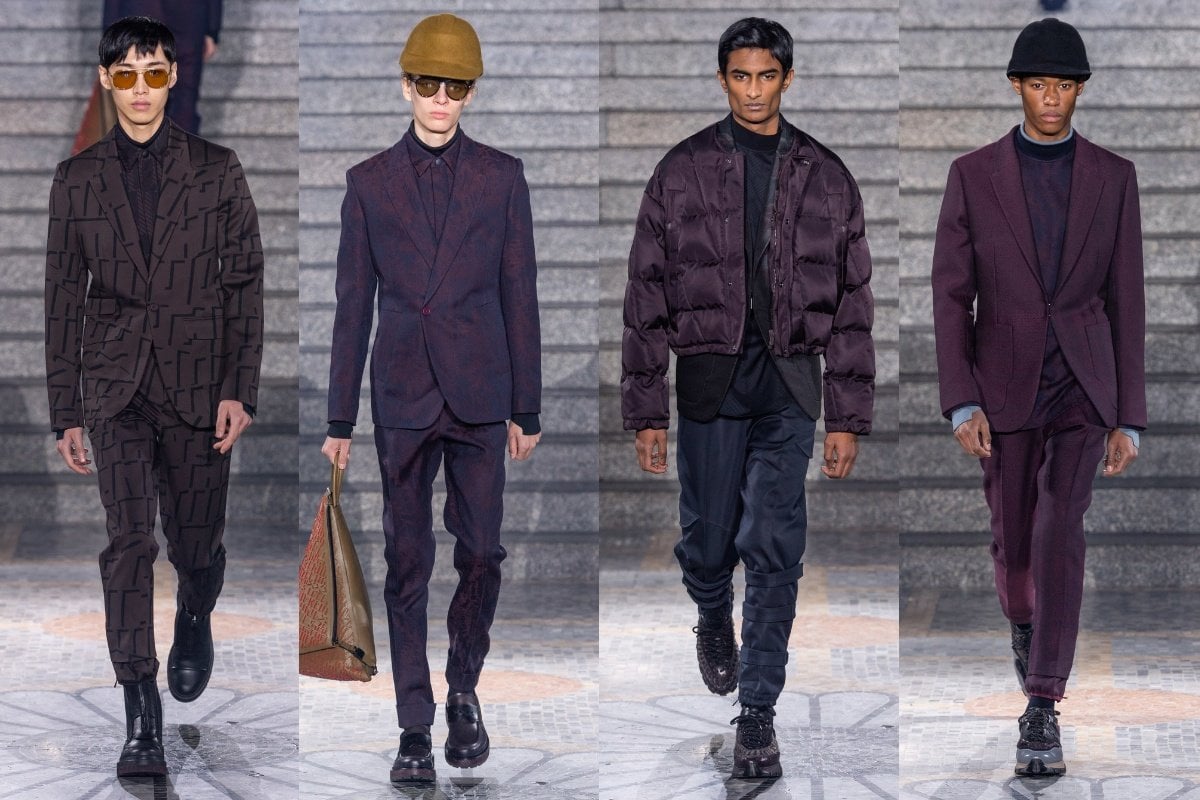 Untuk pertama kalinya saya bertemu dengan Alessandro Sartori, direktur kreatif Ermenegildo Zegna di tempat yang tidak biasa, toilet umum stasiun kreta Milano Centrale. Ini terjadi tepat 30 menit sebelum presentasinya untuk Zegna Couture fall/ winter 2019 di Milano Centrale, stasiun kreta pusat Milan, Italy. Pertemuan itu hanya disaksikan oleh kami berdua karena senyum yang saya lempar pada Alessandro.
Koleksi musim gugur dan dingin kali ini terasa lebih kaya akan tekstur dalam palet warna militer seperti olive dan palet warna hijau lainnya. Dengan suntikan warna marun pada beberapa potong, variasi warna dalam koleksi ini terlihat sangat lux.
Belum lagi ditambah dengan berbagai tekstur dari serat wool, merino, suede dan nylon polyester yang hadir bagai tiga dimensi pada motif dan bahan jacquard. Bisa dikatakan, Alessandro benar-benar mengeksplorasi secara teknologi seluruh kekayan Zegna dalam hal material kain. Sehingga menghasilkan inovasi dalam tingkat selanjutnya seperti penggunaan material kain yang didaur ulang sehingga menjadi jacquard. Disini juga terlihat, Sartori ingin membuktikan bahwa desain pakaian tanpa dukungan inovasi pada bahan kain akan tetap terlihat sama dan tertinggal. Karena pada prinsipnya pakaian pria sudah memiliki pakemnya sendiri dengan ruang lingkup desain terbatas. Sehingga satu-satunya cara untuk melakukan inovasi adalah pada material kain dan teknik jahit. Hadirnya material daur ulang dengan hasil akhir luxury, Sartori membuktikan bahwa rumah mode besar ini mampu menawarkan sesuatu yang sangat bermanfaat untuk lingkungan. Sehingga Zegna membuktikan, tidak akan ada sampah yang tersisa dari pembuatan satu potong pakaian-pun.
Semua koleksi berpotongan sport mix sartorial. Jaket blouson dengan kerah berlalpel seperti pada blazer merupakan inovasi yang belum pernah dibuat sebelumnya. Varian blouson cukup menyita perhatian Sartori untuk koleksi ini, begitu juga dengan puffy jacket yang hadir dalam bentuk jaket bomber dan parka sepanjang lutut.
Kacamata berwarna merah sangat mencuri perhatian dan sepertinya akan bombastis di tahun depan. Begitu juga dengan bentuk topi cap yang dimodifikasi sehingga pada bagian atas lebih melengkung lebar dan bahkan ada yang hampir terlihat seperti topi equistrian. Pakaian ini semua dipasangkan dengan sneakers dan leather boots yang mirip dengan sepatu ski dengan warna-warna yang juga sama, tentara.
Alasan Sartori mengambil alih Milano Centrale, karena stasiun kreta ini (baik stasiun kreta atau bandara) merupakan tempat semua orang datang dan pergi, menjemput atau dijemput, bekerja dan berlibur. Dan mereka semua berasal dari setiap sudut dunia dengan latar belakang yang beragam baik secara sosial ekonomi dan ras. Stasiun kreta merupakan tempat pertemuan setiap orang tersebut walaupun tidak saling mengenal satu dan yang lainnya, yang semuanya disaksikan dengan bisu oleh stasiun kreta.
Keberagaman tersebut diangkat Sartori menjadi sebuah koleksi yang kaya kultur. Dimana kultur tersebut diadopsi dengan sangat cerdas dalam koleksi ini batasan dan aturan baru, aturan Zegna XXX.
Sesaat setelah finale, Sartori, yang berdiri paling depan di barisan model, melihat saya, seakan masih mengenal senyuman di "toilet umum" tadi, langsung menghampiri dan bersalaman sambil bertanya, "you like the collection?", dengan spontan saya jawab "i love the collections!".