Perayaan akhir tahun terasa berbeda di Keraton at the Plaza, a Luxury Collection Hotel, Jakarta. Hotel yang terletak di jantung kota ini menghadirkan serangkaian menu eksklusif yang dikuratori oleh tim kuliner yang di kepalai oleh; Netflix Chef dan Direktur Culinary Rafa Gil. Tahun ini, Keraton at the Plaza akan membawa tema "Enchanting Forest" sebagai tema dan semangat memberi dengan dua program CSR. "Kami ingin meningkatkan kesadaran menjaga hutan Indonesia yang sesuai dengan tami kami tahun ini, Sebagian hasil dari penjual hampers akan kami sumbangkan untuk pelestarian alam. Selain itu, kami juga ingin mengajak tamu untuk mendaur ulang buku mereka yang tidak terpakai dengan menyumbangkannya ke La Moda, "kata Chef Rafa.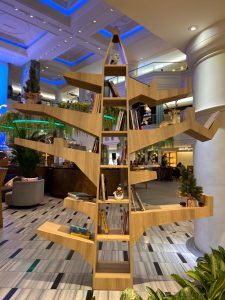 Bookoo Tree
Bookoo Tree adalah pohon natal yang berbeda, berupa rak-rak dari bahan kayu yang berdiri dengan siluet sebatang pohon. "Bookoo Tree" berdiri membentangkan tangan di La Moda, rak-rak di tubuh pohon ini mengundang para tamu untuk menyumbangkan buku-buku yang sudah tidak dibaca lagi, nantinya buku-buku yang terkumpul akan diberikan untuk anak-anak kurang mampu. Para tamu yang telah menyumbangkan buku-buku mereka kepada Bookoo Tree akan mendapatkan diskon sebanyak 10% dari total pembelanjaannya di La Moda. Keraton at the Plaza juga mengajak setiap tamu untuk berkontribusi dalam melindungi hutan tropis Indonesia karena untuk setiap Hampers yang terbeli, Keraton at the Plaza akan menyumbangkan Rp. 40.000 kepada organisasi yang mendukung dalam pelestarian hutan Indonesia.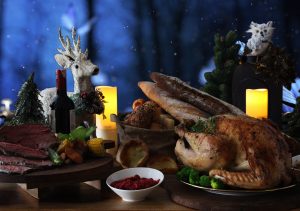 A Merry Christmas Dinning
Pada malam Natal, para tamu diundang untuk merayakan malam bersama teman-teman dan orang-orang terkasih di Bengawan Restaurant dengan buffet disajikan khusus untuk menyambut musim liburan dengan hidangan klasik mewah yang menampilkan Roast Turkey, Daging Panggang Lezat, makanan laut segar, stasiun kaviar, lobster, dan makanan penutup khas Natal. Para tamu dapat menikmati hidangan eklusif malam Natal pada harga IDR 688.000++ per orang atau IDR1.789.000 ++ per orang yang termasuk free flow champagne. Perayaan yang menggembirakan berlanjut pada hari Natal dengan brunch yang menggugah selera dan sangat cocok untuk seluruh keluarga dan dapat dinikmati dengan harga IDR 789.000 ++ per orang atau IDR 1.789.000 ++ per orang untuk free flow champagne. Kunjungan  sinterklas dan musik juga akan mengiringi para tamu pada Malam Natal dan Hari Natal. Sepanjang bulan Desember, Bengawan juga menyajikan brunch yang meriah dan menyajikan masakan favorit musim perayaan yang dapat dinikmati setiap hari Minggu dengan harga IDR 589.000++ per orang atau IDR 1.589.000 ++ per orang untuk free flow champagne. Bagikan kebahagiaan di waktu yang meriah ini dengan kolega, teman, dan keluarga dengan hamparan penuh sukacita yang diisi dengan makanan manis yang siap dipesan mulai 15 November 2019.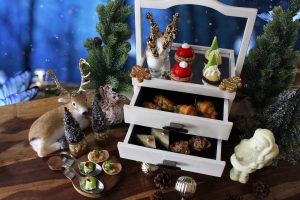 Enchanted New Year & Festive High Tea
Sambut Tahun Baru dengan penuh gaya dan kemewahan dengan merayakan pergantian tahun di Restoran Bengawan. Pada malam Tahun Baru para tamu diundang untuk menikmati berbagai hidangan internasional yang disajikan dalam buffet mewah dengan pilihan Daging panggang, Hidangan laut segar, salad, dan makanan penutup yang lezat. Live music dan pesta bertema hutan negri dongeng akan membuat para tamu tetap berdansa sampai waktu mendekati 2020. Para tamu dapat menikmati makan malam eksklusif dengan harga IDR 888.000 ++ per orang atau IDR 1.888.000 termasuk free flow champagne. Untuk melengkapi perayaan akhir tahun, Keraton Lounge menyajikan High Tea dengan tema Enchanted Christmas, menampilkan suguhan manis dan gurih termasuk ginger bread cookies, mini stolen, turkey tartlet dan masih banyak lagi yang sangat cocok sebagai teman saat berkumpul atau bersantai di sore hari. Disajikan dengan pilihan kopi atau teh dari TWG. Tersedia sepanjang Desember dengan harga IDR 288.000 ++ per orang (minimal 2 orang)
A Year End Staycation
Keraton at The Plaza mengundang para tamu untuk menciptakan kenangan baru saat menyambut akhir tahun. Para tamu dapat bersantai dalam kenyamanan kamar mewah mulai dari  IDR5.900.000++ per kamar per malam termasuk makan malam Tahun Baru dan sarapan yang diperpanjang sampai pukul 12.00 siang untuk 2 orang. Tamu juga dapat memiliki pilihan untuk memanjakan diri dalam perawatan yang menenangkan mulai dari IDR 8.100.000 ++ per kamar per malam termasuk Makan Malam Malam Tahun Baru untuk 2 orang, sarapan untuk 2 orang dan Perawatan Pasangan Sido Asih, sebuah ritual yang dapat menghilangkan stres dan meningkatkan relaksasi. Keraton at the Plaza, a Luxury Collection Hotel, Jakarta, pasti akan memberikan pengalaman liburan akhir tahun yang menyenangkan.
'Tis the Season Hampers
Bagikan kegembiraan Natal dengan mengirimkan kudapan manis kepada orang terdekat, teman, dan kolega dengan dua pilihan hampers yang diisi dengan kue-kue lezat. Tersedia dari Keraton Premium Christmas Hamper termasuk Black forest cookies, Orange vanilla sultana, Kue kelapa salju, Mini Panettone, Cookie almond rempah-rempah, Biscotti Italia, Nastar, Praline cokelat, kacang panggang bergula, Keraton Festive Bear, dan donasi senilai IDR 40.000. Untuk ukuran yang lebih kecil Keraton Christmas Hampers juga tersedia yang mencakup kue Black forest, Orange vanilla sultana, Snow Coconut cookies, Spice almond cookies, Chocolate rocks dengan jeruk, Nastar, Kacang panggang bergula, Beruang Natal, dan sumbangan senilai IDR25.000. Tamu dapat memesan hamper Natal eksklusif seharga Rp.1.198.000 + untuk Keraton Premium Christmas Hamper dan IDR828.000 + untuk Keraton Christmas Hampers. Para tamu juga memiliki pilihan untuk mengirim dua pilihan kue sesuai selera dengan cookie box yang menggugah selera mulai di harga IDR 298.000 + per kotak. Para tamu juga berhak mendapatkan diskon sebanyak  15% untuk pemesanan sebelum 6 December 2019.