Sebagai pemimpin di pasar mobil premium yang mampu mengakomodir gaya hidup modern dan stylish, Mercedes Benz, pada 5 Oktober lalu meluncurkan dua varian baru yang ditujukan untuk kaum muda mapan. Dua varian baru ini adalah seri A-Class dan CLS.
Seri The All New A-Class dan The All New Four Door CLS Coupe ini dipamerkan pada saat perayaan peluncurannya di Star Arena, Senayan City. Keduanya memiliki kelebihan teknologi pada fitur dan desain. Disebut sebagai mobil compact yang bersahabat dengan kondisi urban perkotaan, mobil terlihat kecil dari luar namun luas pada bagian interior.
Pada perayaan ini, juga dipamerkan tiga model yang sudah diperbaharui baik dari teknologi dan desain, yaitu V 260, GLC 200 dan S 450 L. Ketiganya memiliki pasar yang juga besar di Jakarta khususnya.
Selama dua hari, hingga tgl 7 Oktober, setiap orang yang ingin merasakan dan mengalami kecanggihan mobil ini, bisa langsung mencobanya di venue Senayan City dengan rute yang sudah ditentukan. Dengan pengalaman menyetir dan mencoba sendiri, semua fitur pada mobil juga bisa langsung dirasakan.
Roelof Lamberts, President & CEO PT. Mercedes Benz Distribution Indonesia mengatakan, "Hari ini, kami bangga mempersembahkan dua model terbaru kami bagi pelanggan di Indonesia: A-Class yang kompak dan CLS coupé yang elegan. Kedua model ini telah meraih kesuksesan di masa lalu dan kami merasa senang dapat mempersembahkan inovasi dan bahasa desain Mercedes Benz terbaru baik di kelas kompak maupun kelas mewah.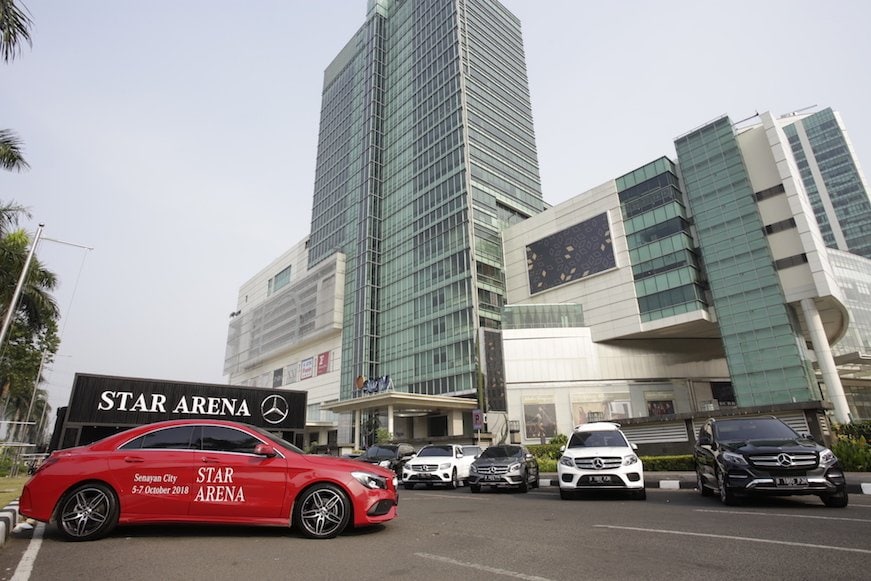 Dengan teknologi mutakhir sepertu LINGUATRONIC dan aktivasi 'Hey Mercedes!' serta desain interiornya yang memukau, kami optimis bahwa the new A-Class akan meraih kesuksesan. Singkatnya, A-Class adalah model yang tepat untuk membuka jalan Anda menuju dunia Mercedes Benz."
Foto: Mercedes Benz Indonesia