Cahaya rembulan di perayaan Chinese New Year kali ini tampak gemerlap dengan hadirnya Bvlgari Lunar New Year Special Editions. Koleksi ini seperti menyambut optimis the year of the pig sebagai simbol kemakmuran dan kesejahteraan.
Kelopak Bunga Berlian & Great Fortune
Kalung indah dengan titik fokus pada kembang berkelopak empat, terbuat dari rose gold, ruby, dan diamond, membiaskan gemerlap kota Roma. Di dalam empat kelopak ini terdapat delapan lengkungan, delapan memiliki makna infinity, kemakmuran dan sukses, kandungan arti yang sangat powerful. Kalung ini tampak sederhana, namun kemewahan yang ditebarkan sangat elegan.
Waktu Yang Mewah Untuk Kebaikan
Waktu yang melingkar di pergelangan tangan, bisa dimulai di saat the year of the pig dengan jam tangan yang dibuat bagaikan perhiasan. BVLGARI LVCEA Tubogas, jam tangan berlatar warna merah sebagai lambang prosperity dan good luck. Dial terbuat dari ruby merah, dan dihiasi dengan berlian. Lempeng jam diikat dengan gelang Tubogas, dengan pilihan steel dan rose gold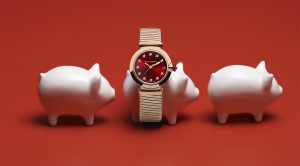 Happiness to the Cheerful New Year
Tas tangan apa yang paling match dan sophisticated dengan Lunar New Year kali ini? Serpenti Forever Diamond Blast Bag, berwarna merah elegan, terang penuh semangat. Bentuk desain yang simpel mencerminkan kemapanan absolut.
Foto: Courtesy of Bvlgari