The most anticipated moment of the year is coming! Hari natal dan malam tahun baru yang akan paling meriah, sebab kita akan memasuki angka cantik 2020. Hotel Pullman Jakarta Indonesia juga tak tinggal diam menyambut tahun istimewa ini, hotel ini mulai awal Desember tahun ini sudah bergeliat dengan ide-ide seru untuk festive season yang tak terlupakan. Pullman Jakarta Indonesia mengusung tema sustainability dan eco-friendly dengan judul eARThy Christmas, wujudnya begitu mengesankan, di area lobi diciptakan pohon natal setinggi 8,5 meter yang terbuat dari 8000 botol plastik AQUA yang dihiasi dengan 500 ornamen yang terbuat dari kertas Kokoru. Ornamen warna-warni yang bergelantungan ini karya dari anak-anak yang mengikuti Kokoru Handicraft Workshop. Konsep perayaan natal yang unik ini berlanjut dengan eARThy Christmas market di area lobi, berisi produk-produk eco-friendly dari bahan-bahan recycle, seperti tas yang terbuat dari anyaman plastik, aksesori gelang anting terbuat dari plastic toy, hingga lukisan mix-media.
Festive Season Penuh Amal
Kepedulian sosial Pullman Jakarta Indonesia tidak hanya berhenti pada perayaan ini saja, hotel ini akan mendonasikan Rp 10.000,- dari setiap transaksi bersantap di Sana Sini Restaurant, juga dari setiap pembelian hampers di Makaron Bakeshop selama bulan Desember 2019. Donasi akan diberikan kepada Yayasan Kanker Anak Indonesia (YKAI) dan XSProject. Hotel juga memberikan area di lantai 2 untuk yayasan Matalesoge memamerkan lukisan-lukisan karya anak-anak yang berkebutuhan khusus, karya-karya mereka ini juga bertujuan untuk amal. Pullman memulai semua festive season ini pada tanggal 2 Desember 2019 lalu dengan kemeriahan Christmas Charity Concert dari The Angel Orchestra and Choir. Mini konser menampilkan pianis tuna netra Christiano Fira, berkolaborasi dengan Sasando and Sape (SAS Indonesia) yang dipimpin oleh Ganzer Lana. Seluruh program di Pullman Jakarta Indonesia didukung oleh AQUA, Kokoru (APP Sinarmas), Yayasan Kanker Anak Indonesia, XSProject, dan yayasan Matalesoge.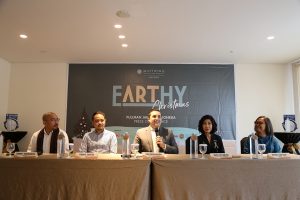 Foto: Pullman Jakarta Indonesia