Holiday season sudah di depan mata, dan tibalah saatnya kelopak mata mendapat shade cantik yang gorgeous, cheek bones terpulas glamor, dan bibir terpoles warna yang deep optimis untuk menyambut meriahnya tahun 2020. Chanel sudah mengantisipasi kehadiran momentum ini dengan elegan, dengan luncurkan Les Ornaments de Chanel – Holiday 2019 Collection, terdiri dari seri warna Rouge Allure, dalam prinsip Gabrielle Chanel untuk menjangkau level elegance: 'Less is More'. Makanya pada koleksi limited edition ini, trend makeup shiny tidak akan menjebak wajah ke dalam 'over the top' shiny yang membuat wajah seperti sedang berada di dalam ruang Bikram Yoga. Lucia Pica, Chanel Global Makeup and Color Designer, menjunjung prinsip tersebut. "Wanita Chanel selalu mencari timeless simplicity, namun ia juga menyukai sesuatu richness dan glamor, modern dan megah," ujar Lucia menggambarkan sosok wanita Chanel yang akan pas dengan koleksi Les Ornaments de Chanel.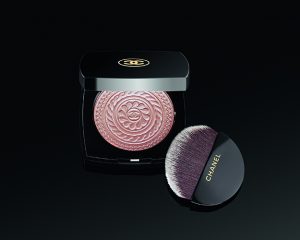 Kilau Elegan Éclat Magnétique
Yang sangat perlu digenggam dari koleksi ini, a must, a must, a must…, adalah ÉCLAT MAGNÉTIQUE highlighter! Warna sangat gorgeous, Metal Peach, terasa sangat soft silky, tidak berasa wet creamy yang menyebabkan wajah seperti berkeringat. Warna yang peach base membuat hasil kilap yang tersamar, natural glam. Kalau skin tone cenderung gelap, refleksi highlighter akan tampil alamiah sehingga tidak terjadi kontras kilau yang berlebihan. Tekstur akan meresap ke kulit wajah sehingga kilau terkesan berpendar dari dalam skin, stunning.
Tips dari Lucia: Baurkan highlighter dengan brush di seputar sisi luar mata hingga ke sisi atas tulang pipi, bisa sesudah atau sebelum poleskan eyeshadow, ciptakan kilau dengan hasil yang segar.

Keluarga Red Vivid
Lipstick, dalam keluarga warna vivid red yang mewah. Terdapat enam warna yang bakal glam up musim liburan nanti, dari merah paling lembut seperti kuntum mawar yang belum mekar, hingga merah pekat seperti black chery burgundy. Mereka adalah, Rouge Délicieux (soft rosebud), Rouge Majestueux (intense muted raspberry), Rouge Splendide (pink coral), Rouge Magnifique (bright orange), Rouge Spectaculaire (true red), Rouge Noble (black cherry burgundy). Untuk lip gloss, ada dua pilihan Rouge Carmin (merah bata cerah) dan Rouge Grenat (merah kecoklatan). Keduanya tipikal lipgloss, agak sticky ketika awal dioles ke bibir namun segera beakhir dengan rasa comfortable di bibir. Lip gloss terpigmentasi dengan sempurna, gunakan tanpa perlu lips stick, super holiday.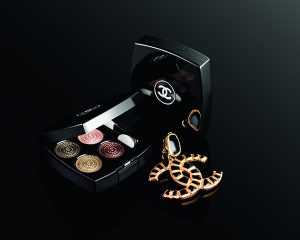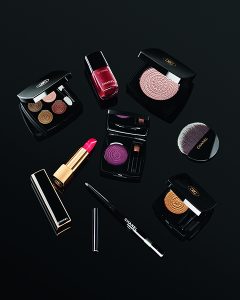 Foto: Chanel