Apa yang perlu diperhatikan ketika membeli wedding gown di saat ini? Ada banyak, salah satu yang paling krusial, hindari gaun bersiluet princess yang identik dengan look koleksi rental gaun pengantin. Coba maju selangkah, perhatikan koleksi terbaru Danny Satriadi Couture yang baru saja ia presentasikan di IPMI Trend Show 2019 di The Hall Senayan City, Jakarta. Ia memberikan look yang berbeda dari gaun-gaun yang sudah terlalu regular saat ini, menghindar dari gaun-gaun princess yang berdiri seharian di etalase-etalase butik rental. Koleksi Danny kali ini diberi judul Gift of Eden, terdiri dari gaun-gaun yang putih angelic bersiluet simpel, namun sangat kaya detail, ornamen, hingga golden embroidery yang membentuk ilustrasi taman-taman Eropa klasik.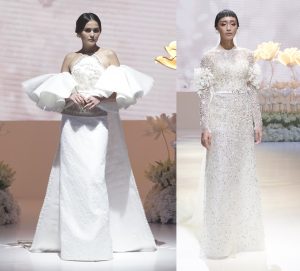 Signature Meninggikan Badan
Danny menghadirkan 14 set gaun, masing-masing dengan mood yang berbeda, mewakili variasi individual style. Rancangan seperti berbasis pada kemudahan 'ready-to-wear' dengan pengerjaan level couture. Kekayaan detail, terutama detail 3-D yang memang sedang in fashion di bridal week fall 2020 Oktober lalu. Detail 3-D di gaun-gaun Danny berupa floral embroidery, micro floral, luxurious texture dan barisan fringe yang panjang menjuntai memberi efek meninggikan badan. Efek peninggi ini sepertinya memang bagian signature dari Danny Satriadi, dengan segala ornamentasi yang ia buat, seperti letupan rigid ruffle yang sangat focal di lengan, hingga sheer pleats seperti kipas di punggung dan dada, proporsi gaun tetap saja tinggi menjulang. Mungkin rahasianya ada pada garis pinggang yang tinggi dengan aksen belt yang sangat kecil, serta segala ornament yang berpola vertikal. Satu rancangan istimewa berupa tube dress dengan akrobat pleated asimetri yang lipatannya membongkah ke sebelah lengan membentuk puffy sleeve, so wow.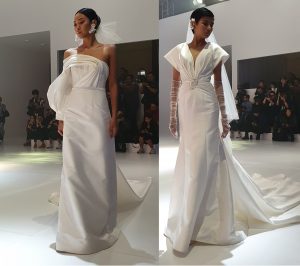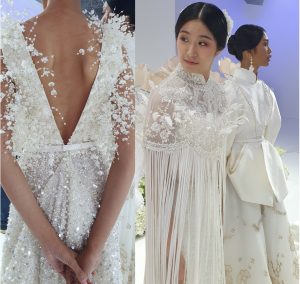 Foto: IPMI