Setelah lewat 7 tahun terpilih sebagai Global Ambassador untuk minuman BenRiach, The GlenDronach and Glenglassaugh, Brown-Forman membawa Stewart Buchanan mengunjungi Indonesia untuk datang dan memberikan satu malam yang ditujukan khusus bagi para penggemar minuman berbahan dasar gandum, whisky.
Memulai karirnya di industri whisky sejak 1993 di tempat penyulingan Tobermory di Mull, BenRiach, Stewart Buchanan memiliki julukan sebagai seorang 'Stillman', dimana tugas utamanya adalah untuk memelihara tempat penyulingan whisky sambil memperdalam kemampuannya dalam hal bagaimana memproduksi minuman yang memiliki aroma dan citarasa yang khas tersebut.
Keahlian dan rasa cinta yang dituangkan dalam mengelola tempat yang berdiri di puncak lembah Speyside ini kemudian membuat tempat penyulingan BenRiach kembali beroperasi di tahun 2004. Sebuah keberhasilan yang sejalan dengan kepribadian khas BenRiach yang merupakan refleksi dari ketangguhan dinamis sebuah tempat penyulingan minuman khas daerah yang terletak di tengah-tengah lansekap nan indah. Sejak itu, beragam aktivasi dilakukan oleh Stewart Buchanan guna memperkenalkan sejarah dan nama besar whisky khas buatan tanah Skotlandia kepada dunia.
Sama seperti BenRiach, GlenDronach dan Glenglassaugh merupakan tempat penyulingan tertua di Skotlandia. Anda akan melihat sajian lansekap yang kaya akan citarasa Gothic, dengan lembah-lembah kecil di Glendronach. Sementara di Glenglassaugh Anda bisa berdiri di seberang pantai yang akan memberikan pengalaman yang berbeda setiap harinya. Anda tidak tahu apa yang akan terjadi berikutnya karena perubahan ombak, angin, langit biru dan semua elemen yang ada menjadi tidak menentu terkait iklim. Pemandangan horizontal tanpa batas menawarkan pengalaman dalam menikmati keindahan alam yang tak tertandingi.
Setelah sempat menjadi Manajer Produksi di 2006, Stewart Buchanan terpilih menjadi Global Ambassador untuk BenRiach, The GlenDronach and Glenglassaugh. Pekerjaannya ini termasuk berkeliling dunia untuk menjamu minuman, menghadiri beragam acara whisky, bertemu dengan media, menawarkan pengalaman menikmati minuman dari tiga tempat penyulingan ke masyarakat luas. Pekerjaan yang sudah dijalankannya sejak 2012 hingga saat ini.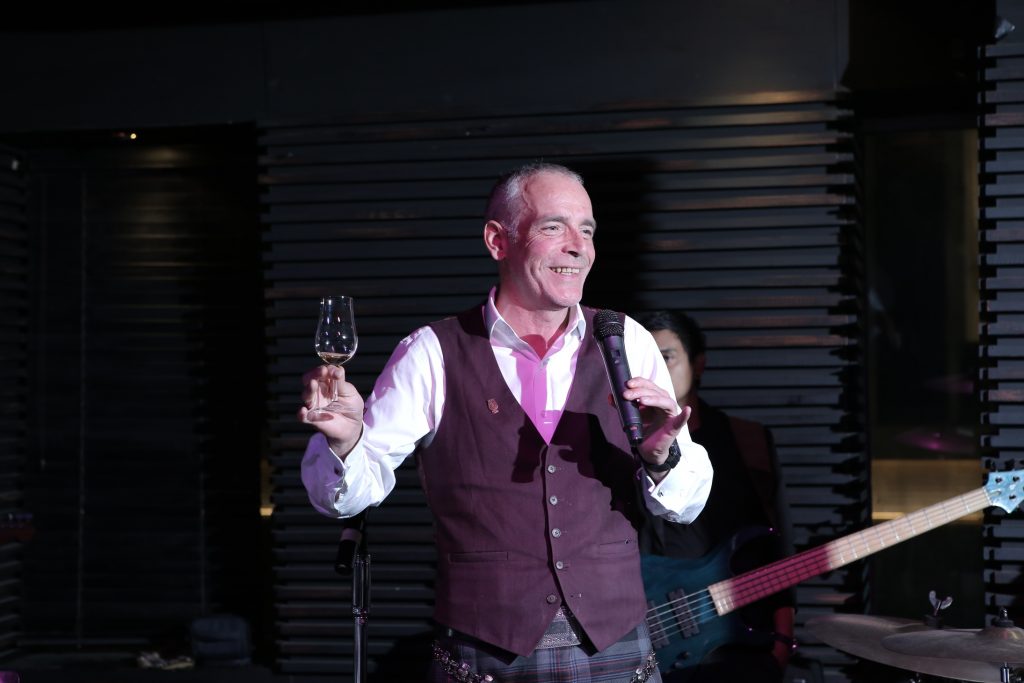 "Terdapat 115 tempat penyulingan di Skotlandia, dan saya beruntung untuk bisa merepresentasikan tiga tempat penyulingan yang memiliki karakter yang berbeda-beda. Saya pikir sangat sulit untuk bisa menikmati minuman dengan karakter ini di masa kini," ujar Stewart Buchanan saat ditemui dalam acara satu malam spesial apresiasi minuman whisky untuk para penikmat ekstrim minuman berbahan dasar gandum yang berlangsung di Amuz Bar & Resto, Energy Building pada 20 Agustus 2019.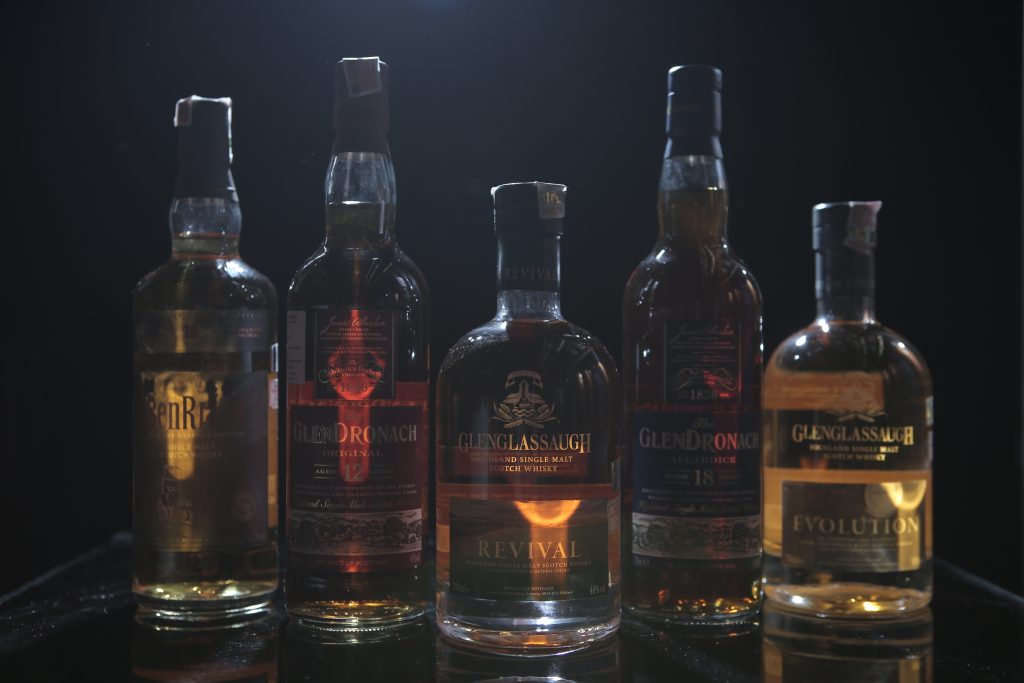 "Ini pengalaman perdana saya untuk menjamu minuman di Indonesia. Sama seperti ketika saya mengunjungi negara lain, tidak pernah saya memberikan pengalaman jamuan minuman yang sama. Saya melihat para penikmat minuman berbahan dasar gandum di Indonesia memiliki rasa ingin tahu yang tinggi untuk menjelajah minumannya hingga ke hal-hal yang paling detil dari sebuah single-malt whisky," tutupnya.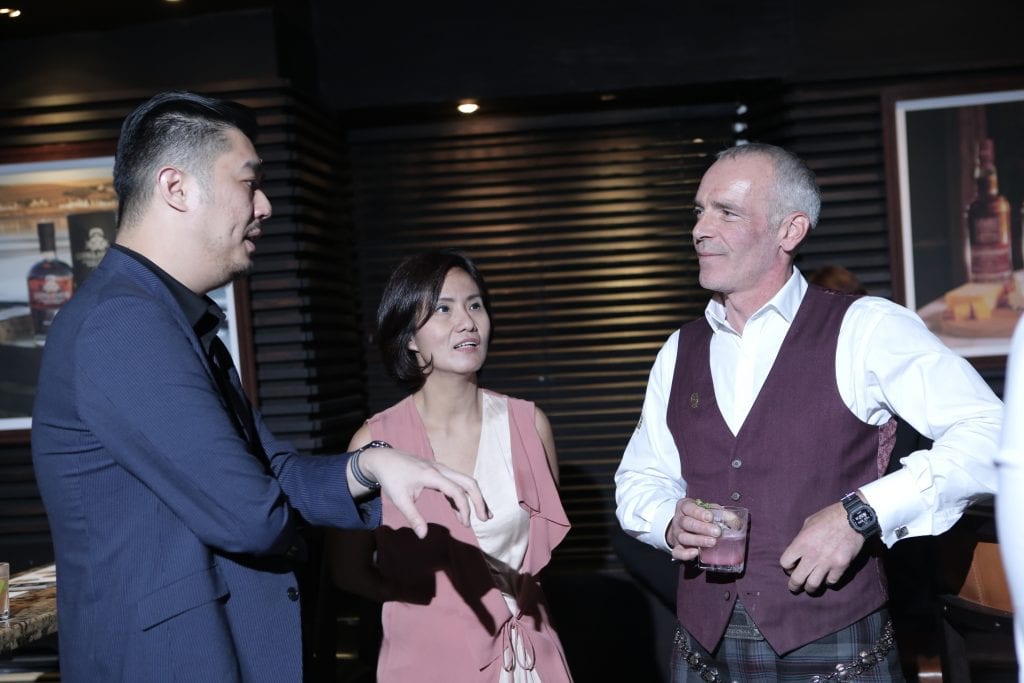 "Sebuah kebanggaan tersendiri bagi kami di Indonesia untuk menyelenggarakan kegiatan yang spesial ini, sebuah malam spesial apresiasi yang di dijamu langsung oleh Stewart Buchanan. Dalam malam apresiasi ini beliau akan menjelaskan bagaimana lokasi, sumber air dan beragam teknik produksi menghasilkan minuman whisky yang berwarna dan kaya rasa. Kunjungan yang langka oleh Stewart Buchanan menempatkan Indonesia sebagai pasar penting yang sedang berkembang untuk minuman single-malt whisky.", ungkap Vincent Pantow dari Brown-Forman Indonesia