Setelah debut pertamanya pada tahun 2016 di Pitti untuk koleksi wanita pertama, Marco De Vincenzo, namanya semakin dikenal di dunia fashion global. Dan kali ini, Marco kembali di Pitti Uomo tapi dengan koleksi pria pertamanya yang fashion show-nya berlangsung tadi pagi di  Tepidarium Of The Roster Of The Horticultural Garden, Florence.
Marco yang lulus dari European Design Institute untuk Fashion & Costume, pada saat lulus langsung diterima bekerja di rumah mode Fendi di bagian desain aksesoris kulit. Dan mulai saat itu, karirnya melesat dan bersinar hingga menjadi nama yang begitu penting di jagad fashion Italy dan global.
Pada debut koleksi pria-nya kali ini, Marco mempersembahkan koleksi musim semi/ panas 2020 dengan gaya yang sangat rileks namun sarat akan detil dan craftmanship jahitan. Sangat praktis dan terlihat mudah untuk dipakai serta di padu-padankan.
Berbagai variasi siluet longgar pada jaket dan celana yang dipadankan dengan polo shirt dan kaos yang di rajut memberikan kesan vintage tapi modern. Stelan jas longgar berada di level berikutnya untuk gaya sartorial yang jauh dari kesan resmi. Begitu rileks dan membuat orang berpikir, "aku bisa pakai ini setiap hari". Jaket motor dan overcoat dipadankan dengan celana pendek selutut yang longgar. Tidak ada potongan ketat di koleksi ini.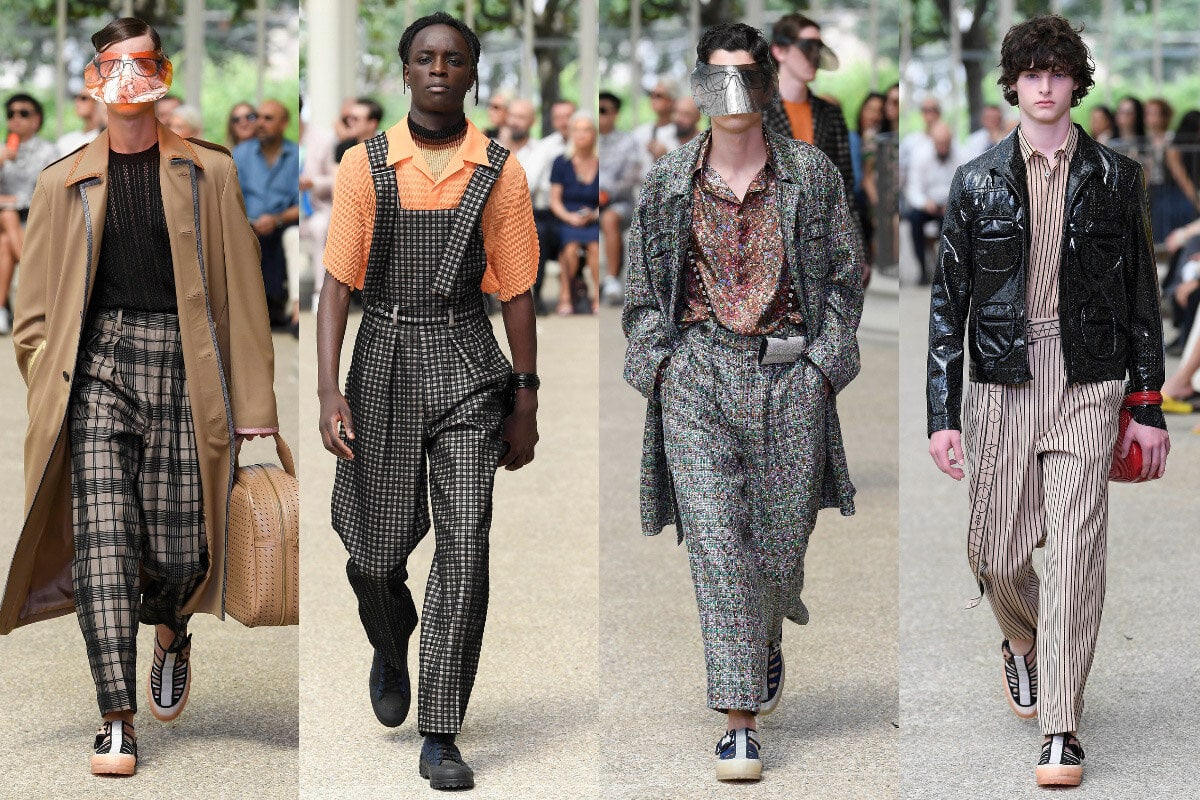 Permainan tekstur sepertinya menjadi kekuatan Marco. Ia bermain dengan material pleats zigazag, wajik dan sulur yang meliuk bagai sambungan huruf S diatas sifon dan poplin. Stelan jas dari tweed dan jaket vinyl dikombinasikan dengan rajut. Sebuah harmonisasi tekstur yang dinamis. Belum lagi celana-celana katun poplin dengan garis yang dibuat sangat rileks, seolah memudahkan pria untuk bergaya apa saja.
Semua ini hadir dalam warna-warna yang cukup menantang tanpa menghilangkan unsur maskulin. Baby pink, baby blue, oranye dan ungu hadir diantara warna klasik pria seperti coklat camel, hitam dan abu-abu. Modern, berkelas dengan cita rasa tinggi. Ini menunjukan desain dan teknik padu-padan yang matang pada desainer semuda Vicenzo.
Foto dok. Pitti Immagine