Apakah Anda siap menikmati kembali gaya berpakaian tahun 80an? Hm, coba lihat dulu apa yang tersedia di depan mata. Salah satunya Alexander Wang yang baru saja mementaskan koleksi fall/winter 2018 di New York Fashion Week. Ia menyerap gaya berpakaian power dressing (salah satu gaya yang berkembang di tahun 80an, gaya berpakaian yang menampilkan formalitas dan otoritas seorang wanita dalam berprofesi).
Kalau ingat wanita-wanita pemain gitar di video klip lagu 'Addicted to Love' Robert Palmer, atau kalau ingat aksi laga aktrsi Mandarin, Moon Lee, di film-film semacam 'Midnight Angels' dan 'Fighting Madam', begitulah kira-kira citra berpakaian wanita yang dipetik Alexander Wang. Sebagai penanda bahwa Wang tidak melulu hidup di era 80an, ia memantapkan desain dengan teknik cutting dan konstruksi yang modern, misalnya peletakan zipper metalik pada jalur cutting yang membentuk siluet. Beberapa gaun diciptakan dari bentukan jas yang didekonstruksi.
Apa pendapat Anda dengan wanita yang memakai jepit rambut bebek di tempat bekerja? Hm, I know! Maka inilah yang dilakukan Wang untuk mengakomodir keinginan alamiah wanita berambut panjang untuk menjepit rambutnya dan tetap stylish: rambut dibuat slick back licin, lalu disatukan di belakang kepala dengan satu atau dua jepit bebek. Bentuk jepitnya tentu tidak berbentuk bunga matahari plastik, atau yang bermotif bendera Inggris, Wang membuatnya hitam legam berbahan akrilik dengan ornamen keperakan.
Selain the power of 80s, Wang juga memperkaya koleksinya dengan rancangan bertutup kepala (ya tentulah menyambut pasar modestwear dan hijab yang semakin meluas), bentuknya seperti penutup kepala penyelam, bentuk yang sudah beberapa kali dicetuskan desainer modestwear Norma Hauri di Jakarta Fashion Week.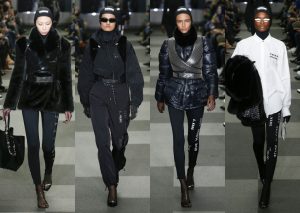 Foto: indigital.tv