LG Electronics Indonesia sepertinya tak ingin menunda untuk memperkenalkan inovasi terbarunya pada awal tahun ini. Diawali dengan memperkenalkan rangkaian perangkat elektronik pengolah udara (air solution) yang kini makin pintar dan hemat energi. Tak bisa dipungkiri, berkat teknologi inverter, LG berhasil mencapai posisi puncak untuk pasar air conditioning (AC) rumah.
Bertempat di ballroom hotel Shangri La, Jakarta, pada 8 Januari 2020, LG memperkenalkan lini baru produk-produk air solution yang lebih beragam, mulai dari perangkat untuk tempat tinggal, hingga hotel, kantor, bahkan restoran.
Khusus bagi air solution untuk perumahan atau tempat tinggal, terdapat tiga perangkat pengolah udara unggulan LG yang diperkenalkan saat itu. Keterhubungan perangkat dengan pemanfaatan Internet of Thing (IoT) menjadi titik perhatian LG pada ketika perangkat baru ini. Membuat Anda menjadi lebih mudah memonitor dan mengendalikan perangkat tersebut melalui smartphone sehingga memberikan kenyamanan maksimal bagi penggunanya. Jarak bukan lagi penghalang bagi Anda untuk mengendalikan ketiga perangkat berikut ini.
AC LG DUALCOOL dengan Watt Control dan ThinQ
Sebagai nomor satu di pasar AC Inverter untuk rumah tangga di Indonesia, LG Electronics terus berinovasi untuk mempertahankan posisi tersebut. Tahun ini, AC inverter LG DUALCOOL hadir dengan Google Assistant. Hal ini memudahkan Anda untuk mengendalikan perangkat, seperti menghidupkan dan mematikan perangkat AC inverter LG DUALCOOL yang terhubung dengan Wi-Fi.
Menurut Changmin Han, Product Director Air Solution of LG Electronics Indonesia, "Selain memastikan tidak ada lagi energy sia-sia karena lupa mematikan AC, keberadaannya memberi kenyamanan pengguna untuk memastikan ruangan telah sejuk begitu memasukinya karena pengaktifan telah dilakukan sebelumnya."
Dengan keberadaan Google Assistant, inetraksi Anda dengan AC inverter LG DUALCOOL melalui aplikasi ThinQ menjadi lebih mudah dan nyaman. Lewat aplikasi ThingQ, Anda bisa melakukan kendali pada beberapa aspek operasional, termasuk mengatur tingkat suhu dan tingkat asupan daya listrik saat AC menyala.
Salah satu fitur unggulan lainnya yaitu fitur Watt Control, yang memungkinkan Anda mengatur tingkat asupan daya listrik sesuai kebutuhan. Fitur ini memberikan opsi pengoperasian AC inverter LG DUALCOOL pada empat pilihan daya, mulai dari 100%, 80%, 60% bahkan hanya dengan 40% dari kebutuhan daya listrik sebenarnya.
Fitur Watt Control ini dapat terjadi dengan adanya kompresor khusus yang dikembangkan LG yaitu Dual Inverter Compressor. Kerja unik dua rotot yang berputar pada satu tuas membuat kompresor ini memiliki kemampuan rentang pengaturan daya yang lebih baik, sehingga mampu menghemat energi hingga 70%, dan mampu menyejukkan ruangan lebih cepat hingga 40%.
LG CeillingFan dengan Anti-Nyamuk
Kipas angin yang menempel di langit-langit kian menjadi salah satu trend baru untuk penggunaan rumah tinggal, restoran, serta café. Selain memberikan fungsi untuk menghadirkan embusan angin yang sejuk, juga memberi nilai estetika terhadap ruangan tersebut. Tahun ini, perangkat baru LG CeilingFan menjadi kategori baru LG pada perangkat pengolah udara.
LG CeilingFan mampu memberikan embusan angin yang lebih lembut dan motor kuat dengan tingkat getaran yang lebih rendah. Berkat teknologi inverter, kipas angin ini memberikan kenyaman lewat fitur pengusir nyamuk dan keterhubungan dengan Wi-Fi untuk pengoperasian jarak jauh.
Menciptakan kipas dengan embusan angin lembut dilakukan melalui pengamatan LG pada salah satu titik lemah kipas angin konvensional yang menempel pada langit-langit. Bilah kipas konvensional yang berbentuk pilih menyerupai papan, menghasilkan tangkapan udara yang akan membuat pusaran angin menerpa lebih kencang pada orang di sekitarnya. Selain membuat badan menjadi tidak nyaman, juga membuat benda di sekitar ruang beterbangan akibat turbulensi.
Lewat pengamatan tersebut, LG menerapkan desain Dual Wing pada bilah kipas LG CeilingFan yang terlihat seperti deretan tonjolan kecil pada bilah panjangnya untuk memecah angin sebelum mengalirkannya ke sekitar ruangan. Tak hanya itu, desain unik ini membuat LG CeilingFan bekerja lebih senyap (hanya 46.8dB) dibanding kipas angin serupa (54,2dB).
Hal lain yang menjadi keunggulan LG CeilingFan adalah dengan disematkannya gelombang ultrasonik yang efektif mengusir nyamuk. Selain itu, keterhubungan dengan Wi-Fi membuat kipas ini dapat Anda kendalikan dengan mudah menggunakan smartphone Anda.
LG PuriCare untuk Memurnikan Udara
Tahun ini, LG Electronics sepertinya ingin memperkenalkan perangkat pemurni udara baru yang telah disempurnakan dengan teknologi inovatif LG untuk mematahkan keraguan masyarakat terhadap berbagai produk air purifier yang banyak beredar saat ini. LG PuriCare hadir dengan desain yang menyerupai tabung dengan bagian puncak yang mengerucut, berbeda dengan air purifier kebanyakan yang berbentuk persegi. Namun inilah yang menjadi keunggulan air purifier LG.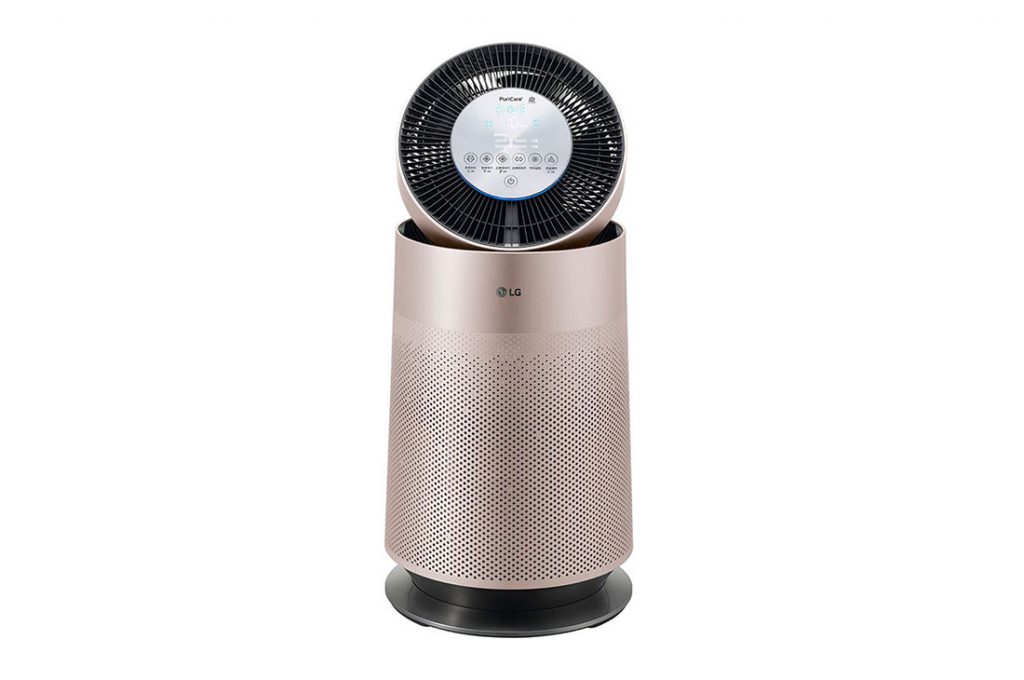 Jika kebanyakan air purifier memancarkan udara dari sisi depan dan atas produk, LG PuriCare justru mempunyai lubang udara yang memenuhi seluruh permukaannya. Saat dioperasikan, bagian atas LG PuriCare akan terangkat hingga sudur kemiringan tertentu dan berpusar mengelilingi bidang atas sambil mengalirkan udara. Menurut Changmin Han, hal ini memastikan LG PuriCare mengalirkan udara hasil pembersihan sebelumnya ke berbagai sisi ruang, menjangkau bagian penting yang selama ini luput dari produk sejenis sebelumnya.
Keunggulan lain dari produk ini adalah terapan enam langkah penyaringan yang dimilikinya. Selain debu dan penyebab alergi, panjangnya langkah penyaringan ini dibandingkan produk sejenis berguna untuk menghilangkan bau hingga asap dari ruangan. LG PuriCare bahkan telah mengantongi sertifikasi dari lembaga uji British Allergy Foundation.
Seperti kebanyakan produk rumah tangga LG lainnya, LG PuriCare juga dapat dioperasikan melalui smartphone berkat keterhubungan produk ini dengan Wi-Fi. Jadi Anda dapat lebih nyaman mengoperasikan LG PuriCare tanpa harus beranjak dari sofa Anda yang nyaman.