Blackpink siap-siap tergeser dengan True Damage, satu grup musik virtual yang immortal, grup ciptaan Riot Games (pengembang video game dari Amerika) yang diciptakan di dalam alam game: League of Legends. Grup ini terdiri dari Qiyana, Senna, Akali, dan dua cowok bernama Yasuo dan Ekko. True Damage mengusung musik Kpop, namun terdengar berbeda karena terdapat racikan kultur hip hop yang kental, sehingga terdengar lebih deep. Dua personel grup ini, Qiyana dan Senna, akan mendapat penangan khusus dari negeri fashion di alam nyata, dari tangan Nicolas Ghesquière, artistic director Louis Vuitton women's collection. Untuk Qiyana, Nicolas membuatkan micro mini cape berbahu strong, legging beraksen metalik keemasan, belt bag dari seri Louis Vuitton Dauphine, hoop earings besar berinisial LV, dan Star Strail ankle boots khusus untuk karakter Qiyana. Kreasi Nicolas untuk Senna belum diungkapkan.
League of Legends World Championship 2019
True Damage tampil di alam nyata, membawakan debut lagu mereka yang berjudul 'GIANTS', di depan para gamers pada acara final 2019 World Championship, acara puncak turnamen eSport League of Legends memperebutkan piala Summoner's Cup yang diikuti oleh 24 tim dari seluruh dunia yang lolos melalui perntandingan berbulan-bulan di penyisihan regional. Louis Vuitton menciptakan travel case khusus untuk membawa pulang piala Summoner's Cup, berupa peti trunk yang bisa terbelah lima bagian ketika terbuka. Acara puncak berlangsung di Accor Hotel Arena di Paris diklaim oleh CEO Riot Games, Nicolo Laurent, sebagai "the biggest event in the history of eSport". Nicolo mengestimasi ada 100 juta penonton dari seluruh dunia menyaksikan pertandingan final secara online. Piala Summoner's Cup berhasil direbut oleh tim Fun Plus Pheonix dari Cina.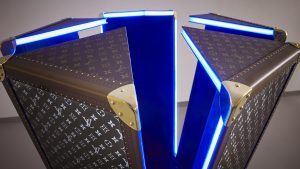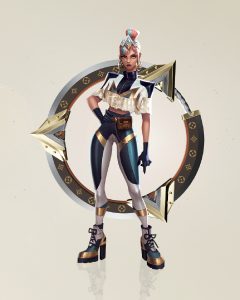 Foto: Louis Vuitton