Chef Sky Wong Kum Choy, mempersiapkan sajian Cantonesse di dapur restoran Hakkasan yang baru saja dibuka di kawasan paling bergengsi di Jakarta, di lantai 25 dan 26 Alila SCBD Hotel, yang bersebelahan dengan gedung Bursa Efek Indonesia dan berseberangan dengan gedung Pacific Place Jakarta.  Ini adalah restoran Hakkasan ke 12 di dunia, dan yang pertama di Asia Tenggara. Hakkasan pertama kali di buka di London tahun 2001, lalu kemewahan menyebar ke Abu Dhabi, Beverly Hills, Doha, Dubai, Las Vegas, Miami, Mumbai, New York, San Francisco, dan Shanghai. Dua restoran Hakkasan di London sudah mencapai bintang Michelin.
"Kami bangga bisa hadir di Jakarta, untuk komunitas lokal dan pebisnis profesional di kawasan SCBD dan sekitarnya. We welcome them to a world-class dining experience. Hakkasan Jakarta presents a modern Cantonese restaurant in the capital city of Indonesia and serves authentic cuisine at its finest." Ujar Jean Pittion, General Manager of Hakkasan Jakarta.
Eksplorasi Cantonesse Cuisine
Dapur Hakkasan Jakarta akan dipimpin oleh Chef Sky, dengan pengalaman culinary di berbagai hotel dan restoran di Eropa, Timur Tengah dan Asia Pacific. Chef Sky mulai bergabung dengan Hakkasan Group tahun 2012 di Hakkasan Dubai sebagai Executive Sous Chef. Tim Chef Sky akan fokus pada bahan-bahan lokal, mengeksplorasi pasar tradisional untuk menemukan premium ingredient terbaik. Menu unggulan di antaranya ada crispy quail egg puff, black swan puff berisi musang king durian, dan steamed grouper dengan saus kaffir sambal. Pilihan Yun Cha menu dan a la carte menu, keduanya menawarkan perjalanan santap selama satu jam.
Makan Exclusive
Hakkasan mulai membuka pintu mulai dari lunch time hingga larut malam, tamu-tamu akan berada di dalam tata interior modern hasil desain dari GBRH Interior Design dari Paris. Interior tetap bergaya Asia dengan sedikit pengaruh Western, dan tata cahaya yang memberi kesan akrab dan lembut. Pemandangan sky scrapper Jakarta dari lantai Hakkasan tampak istimewa. Untuk exclusive event, terdapat pilihan dua private dinning room dengan daya tampung 12 orang. Kedua ruang ini bisa disatukan dan menjadi berkapasitas 32 orang.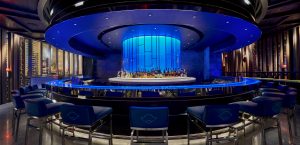 Foto: Hakkasan Jakarta