Saat ini, menjadi bagian dari satu komunitas bukanlah sekadar untuk berkumpul semata, tetapi untuk sesuatu yang lebih substansial, untuk berbagi antusiasme, dan pemicu rasa passionate yang lebih dalam. Satu komunitas yang sejak tahun 2018 lalu berada dalam radar pantauan Luxina adalah komunitas Madeind.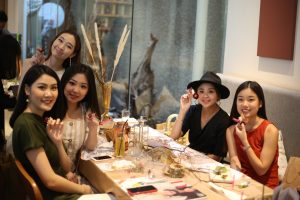 Mereka berbeda dan menarik untuk diteliti. Kenapa? Karena setiap berkumpul, mereka selalu mengenakan rancangan desainer Indonesia. Walau begitu bukan berarti look mereka jadi tampak 'etnik' penuh misi budaya, look mereka terjaga oleh selera berpakain yang modern, berserapan aura fashion global. Kemudian penampilan mereka tersebut ditopang dengan penggunaan aksesori seperti tas dan sepatu international brand, sehingga rancangan desainer lokal mendapat added value, mereka sejajarkan dengan global brand.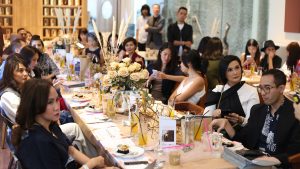 Di awal tahun ini, komunitas Madeind baru saja berkumpul lagi, dalam kegiatan private luncheon di Jakarta Selatan. Kegiatan buka tahun ini diisi dengan presentasi kilat dari Charlotte Priatna M.pd, tentang self image di lingkaran sosial. Lalu, Lia Candrasari, produser aksi The Beauty of West Kutai, menghadirkan Billy Tjong dengan karya desain yang menggunakan kain tenun Doyo dari Kabupaten Kutai Barat, Kalimantan Timur. Kemudian, SIORAI, satu label perhiasan berlian dengan ajakan untuk lebih akrab dengan berlian di siang hari.
Komunitas Madeind muncul dari gerakan See Now Buy Now untuk produk Indonesia yang digagas oleh Melinda Babyana, Chief Executive Officer dari Argo Apparel Group. Di kesempatan private luncheon ini, Melinda menghadirkan pop up store: MADEIND x Billy TJong, neusa x purana resort collection, dan MADEIND x Moral spring summer 2019. Bagi yang tak sempat hadir siang itu, koleksi yang dihadirkan bisa ditemukan di www.made-ind.com
Foto: Madeind