Seberapa sering Anda melihat orang yang berpakaian, pakaiannya lebih 'istimewa' dari sosok pemakainya? Mungkin sering ya, baju overpower dan 'menenggelamkan' kepribadian pemakainya. Indikasinya, Anda lebih tertarik membahas pakaian yang dipakai dari pada orang yang memakainya. Miuccia Prada sangat peduli dengan hal seperti ini, bertahun-tahun ia mempertahankan prinsip bahwa sosok manusia lebih penting dari pada pakaiannya, sehingga ia tidak akan merancang pakaian yang 'jahat' karena menelan pribadi pemakainya. Pada presentasi koleksi spring 2020 yang ia hadirkan di Milan Fashion Week, Prada menyampaikan pada catatan program yang ia bagikan, "a collection about the power of a woman over clothing, and style over fashion'.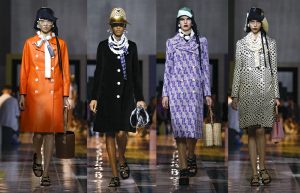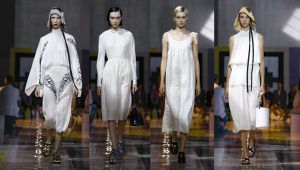 Minimalisme Sebagai Jawaban Isu Sosial
Bukan hanya tak ingin membuat rancangan yang lebih hebat dari pemakainya, namun juga Prada menciptakan style yang tahan lama, style yang lebih power dari pada fashion. Untuk itu, Prada selalu berpijak pada look twenties dan forties, lalu merangkul inspirasi lain untuk disematkan ke pijakan look yang sudah ditetapkan. Look ini disilangkan dengan mood 70s tailoring yang tidak terlalu structured, berupa jaket-jaket panjang dan coatdress berkancing besar. Gaun-gaun dan rok sepanjang betis, dengan aksen twisted dan juga pita dileher, dibuat sleeveless, menghadirkan kesan minimalisme dari nineties. Minimalisme menjadi strategi Prada untuk mengantisipasi isu tanggung jawab fashion sebagai pihak yang turut memperbanyak sampah di bumi ini. Less is more, pandangan bijak untuk mengurangi produksi benda-benda tidak penting yang akhirnya menyampah.
Foto: GioStaiano