Noonoouri, gadis berumur 19 tahun, ukuran kepala sangat besar, bola mata sangat besar dengan riasan smokey eyes, berponi dan rambut panjang. Ia adalah Fashion Influencer yang sedang melintasi luxury brand terkemuka saat ini, padahal Noonoouri tidak banyak bicara, bibirnya kecil dan selalu terkatup. Ia tidak pernah antri demi sebuah fashion show, ia tidak berdesakan di front row, tapi instagramnya diikuti oleh Dior, Naomi Campbell, Angelica Cheung, Carine Roitfeld, dan Anna de la Russo.
Taking Over Dior Account
Ketika Dior meluncurkan Cruise 2019 Collection di Paris bulan Mei tahun lalu, Noonoouri diminta Maria Grazia Chiuri untuk Take Over akun Instagram Dior. Noonoouri bilang di Instagram: "Incredibly proud of being part of this unforgettable moment working hand in hand with your supportive and warmhearted team. My deepest honor to work with all of you," Noonoouri wrote on Instagram.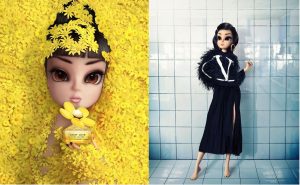 Sampai saat ini label-label yang sudah mengajak Noonoouri berkolaborasi adalah Saint Laurent, Versace, Riccardo Tisci, Nike, Miu Miu, Marc Jacobs, Valentino, Gucci, Fendi, Bvgari, dan banyak lagi. Noonoouri bagaikan 'the real influencer'. Padahal Noonoouri yang cantik adalah seorang CGI (Computer Generated Imagery), sesosok figur digital ciptan Joerg Zuber, seorang pria berusia 44 tahun dari Muncih, Jerman.
Hanya Makan Sayuran
Zuber dan tim kreatifnya (Opium Effect) sudah merealisir Noonoouri sejak tahun 2011, namun tidak ada satupun investor yang tertarik dengan idenya. Lalu pada tahun 2017 Zuber memutuskan untuk berjalan sendiri memperkenalkan Noonoouri kemana-mana, menyampaikan misi sosial Noonoouri yang tidak menggunakan Fur, mendukung sustainable fashion, pengusung Vegan 'lifestyle. Saat ini pengikut Instagram @Noonoouri sudah lebih dari 250.000 orang.
Foto: @noonoouri