Obsesi dari sekian banyak couturier adalah bagaimana menaklukkan bentuk-bentuk geometri dengan menggunakan bahan kain, leather, atau apa saja yang bisa dipakai di badan. Apakah yang memakai nantinya bisa duduk atau harus berdiri sepanjang hari, adalah urusan nomor tiga akar tiga. But, in the name of creativity, setiap tantangan halus segera dieksekusi.
Pita Raksasa Di Atas Swarovski
Olivier Rousteing, untuk koleksi haute couture pertamanya atas nama rumah mode Balmain di Paris, menciptakan gaun-gaun yang mengejar bentuk geometri, seperti lingkaran dan persegi empat, lalu diimbangi dengan super bow pita-pita raksasa dan rigid ruffle yang tampak seperti sirip. Salah satu cara untuk mencapai geometric volume yang diinginkan, Olivier membuat tumpukkan frill halus yang disusun padat. Krital Swarovski berbentuk pearl, tear drop, dan stone, sengaja ditaburkan untuk mengangkat kemewahan couture.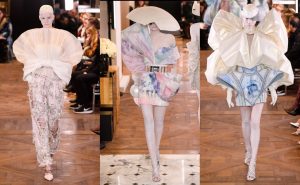 Foto: Filippo Fior / Gorunway.com