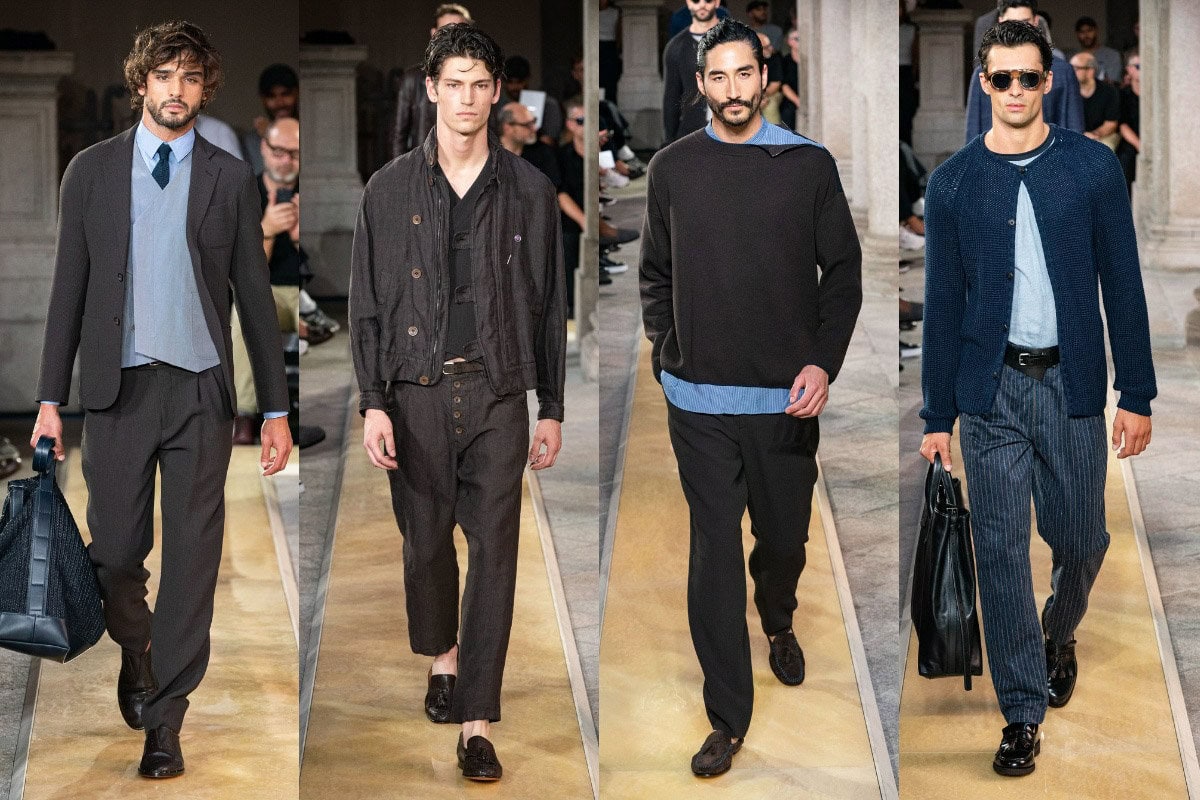 Walaupun trend fashion berubah dari segala arah, Giorgio Armani tetap konsisten memberikan apa yang menjadi kekuatan dan kemampuannya, tailoring. Koleksinya pada fashion show tadi malam, 17 Juni, di Milan, seakan memberi tahu pada dunia bahwa ia tetap raja untuk penampilan pria dewasa yang klasik dan beginilah seharusnya pria dewasa berpenampilan.
Untuk musim ini, Mr. Armani melakukan hal yang tidak biasa. Biasanya show diladakan di Armani Teatro di kantor pusat Armani, tapi kali ini Armani membuka pintu rumahnya, yang sebenarnya disinilah awal Armani berkarya. Dan show-pun dilakukan di halaman tengah rumahnya yang luas diantara pilar-pilar dan batu marmer Italy.
Untuk koleksi spring/ summer 2020, Mr. Armani masih tetap menyuguhkan warna yang selalu ada setiap koleksinya dan setiap musim, biru dan merah. Tidak ada palet biru yang bisa menyamakan serial biru Armani. Dan ini sudah sangat mudah di identifikasi walaupun dibuat dalam material apa saja. Palet biru yang mendominasi diantara warna merah, krem, khaki yang hadir secara minoritas, memang seperti koleksi-koleksi terdahulu, tapi dengan siluet dan potongan yang berbeda.
Siluet longgar dengan teknik tailoring pada rompi, kemeja dan blazer terasa sangat rileks dan easy to wear. Styling padu padan juga sangat terasa di koleksi ini, dimana satu stel kemeja kerah shanghai dan celana bermotif garis dipadankan dengan rompi yang berbeda sebagai dalaman. Potongan kemeja kerah bulat tanpa kelopak (kerah shanghai) yang banyak dalam koleksi inilah yang membuat koleksi ini terlihat lebih santai dan easy to wear. Biker jacket, double brest jas, trench coat dan jas 3 kancing, dipasangkan dengan celana longgar yang mirip celana piyama. Apalagi material yang digunakaan adalah katun, sutra, shantung sutra, linen, denim, katun poplin dan katun jacquard.
Semua material ini memiliki efek jatuh yang ringan sehingga dengan konstruksi jas atau jaket pendek, akan menjadi luaran (outerwear) yang tidak berkesan menumpuk. Bahkan stelan jas double breast yang dibuat dari linen dibuat tidak menggunakan bantalan bahu untuk mendapatkan tampilan rileks yang sempurna.
Walaupun begitu, siluet longgar yang hadir disini berkesan seperti gaya berpakaian pria-pria Jepang pada umumnya, tapi tidak menghilangkan ciri khas pria Italy yang polished dan dandy. Misalnya elemen scarf yang di ikat pada leher atau sepatu pantofel dressy yang hadir hampir disetiap look.
Armani ingin memberikan referensi baru bagi kaum millenniel bahwa gaya bukan hanya street fashion. Ini cara Mr. Armani mendidik kaum muda, terutama pria, untuk lebih "berselera" dalam berpakaian. Dan Giorgio Armani masih tetap memiliki kemampuan itu karena kekuatan dan kapasitasnya di zona tailoring ini.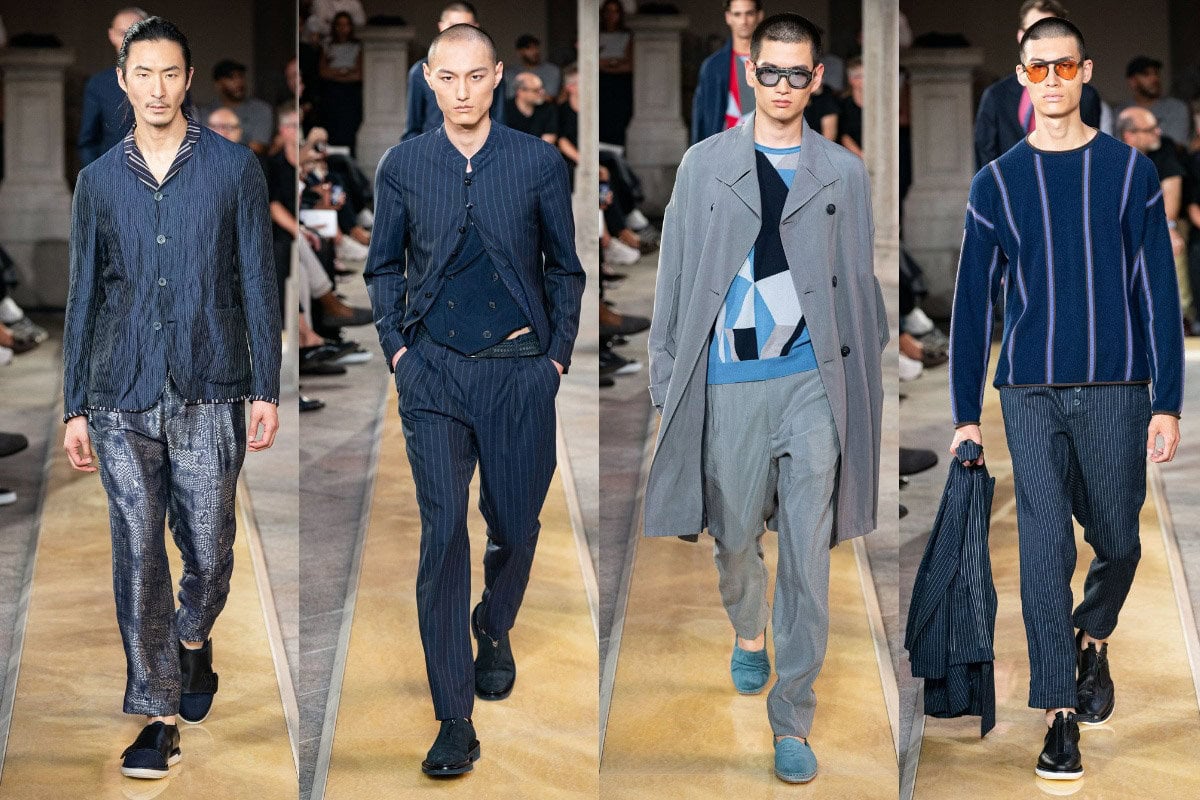 Foto: Giorgio Armani & Gorunway