Musim semi dilukiskan dengan elegan dan misterius oleh salah satu the great Italian painters bernama Sandro Botticelli, lukisan masterpiece tersebut berjudul Primavera, dibuat sekitar tahun 1492 – tiga tahun sebelum Sandro membuat lukisan The Birth of Venus yang sangat sohor (kedua lukisan Sandro ini telah menjadi ikon Italian Renaissance). 'Primavera' menggambarkan kelembutan springtime, di dalamnya terdapat sosok Mercury, tiga dara yang disebut dengan Three Graces, Venus yang anggun, kemudian Flora, Chloris, dan Zephyrus yang misterius. Mereka mengenakan pakaian dengan drapery yang lembut, sebagian transparan, di tengah-tengah taman gelap berhiaskan bunga-bunga yang sedang bersemi. Lukisan ini kaya detail, bukan saja detail alam, namun juga gelombang drapery pada pakaian, semua tergores dengan harmonis. Dari lukisan ini lah Maria Grazia Chiuri mengepakkan sayap untuk koleksi Dior haute couture spring (primavera) 2020. Oh ya, Maria juga mengatakan bahwa di koleksi ini ia juga menyerap energy dari karya patung berjudul Winged Victory of Samothrace, salah satu harta masterpiece berharga bagi museum Louvre Paris, patung marble putih tanpa lengan dengan sayap mengepak ini adalah Nike the goddess of victory, ia tahun lalu kembali tenar di music video Beyonce dan Jay-Z berjudul 'Ape Sh*t'.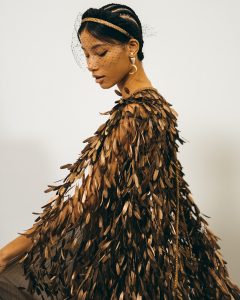 Drapery Patung Bersayap
Rancangan untuk evening dress diserap Dior dari masa impian renaissance, yang dipotret oleh Sandro Botticelli tersebut, saat wanita-wanita mengenakan Peplos, gaun yang seolah-olah hanya dijuntaikan saja di badan. Dior tentu bermanuver dengan teknik dan cutting berlevel haute couture. Drape dibuat seolah terjuntai natural, padahal ia ditarik dan ulur mengikuti pecah pola sesuai badan. Fabric dikepang-kepang (braided) untuk gaun bergantung pada rancangan one shoulder, ada juga gaun sheer yang bagian tutup dada dan rok panjangnya disambung dengan teknik braided ini, pengerjaan sangat delicate, namun kokoh ketika harus diterpa angin. Perhiasan-perhiasan dibuat dari representasi dedaunan, bunga, bersepuh emas, dengan mutiara-mutiara putih yang identik dengan Venus.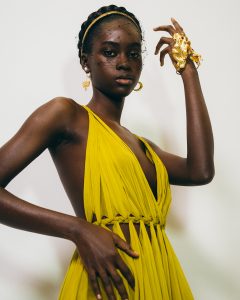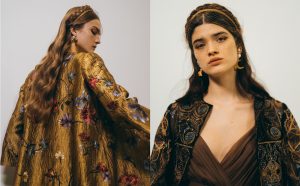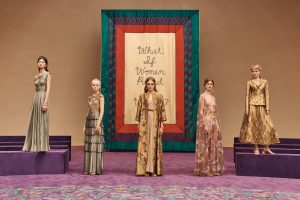 Foto: Dior, Musee du Louvre, Sandro Botticelli