The Queen Mother dari negeri Wakanda, Angela Bassett, dianugerahi penghargaan tertinggi Black Girls Rock Award 2019, yang ditayangkan di kanal BET awal Oktober lalu. Dalam pidatonya Angela menyampaikan: "My purpose as a Black woman, as an actress, has always been to portray excellence on the screen, to be proud, unapologetic and without regret," pidato yang membuat tamu-tamu berdiri dan memberikan tepuk tangan penuh rasa bangga. "So when you're told you're not good enough, you tell them, not only am I good enough, I'm more than good enough," lanjutnya dengan suara yang penuh keyakinan. Semarak respon penonton adalah ekspresi dari hal-hal harapan kesetaraan etnis yang terus digaungkan hingga detik ini. Sehingga, bermain dengan ide-ide kultur dan rasial untuk bidang kreatif saat ini memang akan sensitive. Ingat case dari Dolce & Gabbana, Gucci, dan parfum Savage Dior?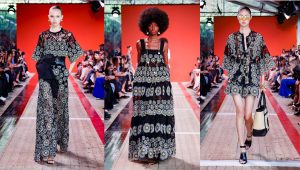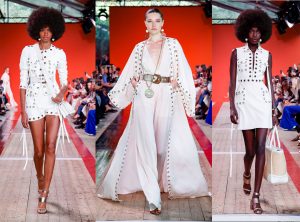 Reflection of Diversity
Hal ini tidak menjadikan Elie Saab surut, malah ia melihatnya sebagai ide dasar untuk koleksi spring/summer 2020 yang ia sajikan di Paris Fashion Week. Mungkin karena Elie berasal dari Lebanon, sehingga sampai hari ini tidak ada gejolak dari apa yang telah ia buat untuk koleksi terbarunya. Ini kalimat yang tertulis di press release yang dibagikan ke pers: "A reflection on diversity than animates the great savannas of Africa." Keindahan alam Afrika, kehidupan Safari, dan motif-motif abstrak, diolah ke dalam gaya rancangan Elie Saab yang gala bernuansa couture. Baju-baju Safari berubah menjadi shirtdress dengan bagian rok yang menggelembung lebar ala princess, dua saku tetap menempel di dada, kerah kemeja juga ada, plus taburan detail eyelet bertaburan di lengan, dan bagian depan gaun. Bahan brocade hitam bermotif bunga daisy putih, tampil menggemaskan. Aksesori kalung beads, chocker, dan gelang-gelang besar khas Afrika, melengkapi semua rancangan.
Foto: Guillaume Roujas for NOWFASHION