Chanel Métiers d'Arts, satu koleksi Chanel yang khusus dibuat dengan basis kolaborasi bersama artisan, satu usaha pioneer, menciptakan dialog antara Chanel dan sekian banyak artisan, menghadirkan inovasi rancangan ready-to-wear beraura haute couture. Chanel sudah memulai ini sejak tahun 2002, bekerja sama dengan artisan memamerkan karya kolaborasi di berbagai kota, dari mulai Bombay, Dallas, Edinburg, Hamburg, Salzburg, Shanghai.
Rok Panjang Dalam Museum
Kali ini Chanel Métiers d'Arts dihadirkan di The Met (The Metropolitan Museum of Art), New York. Karl Lagerfeld mengangkat tema ancient Egypt sebagai dasar ide, mentransformasi rok-rok yang biasa dikenakan para pria di era Pharaoh menjadi rok yang dikenakan dengan Chanel jacket. Formasi look terbaru yang diberikan Chanel adalah rok panjang silk chiffon warna putih ditambah dengan tunik, atau setelan big jaket dan mini skirt, atau juga dengan knitted tunik yang warna dan tekstur rajutnya bagaikan tekstur ancient Egyptian linen dari Saqqara, Mesir.
Amulet Ribuan Tahun
Aksesori khas Mesir, Amulet, yang biasa melingkar di bahu, muncul sebagai aksen utama di koleksi ini. Aksesori yang lain diserap dari berbagai ornamentasi khas Egypt. Keunggulan bangsa Mesir dengan hieroglyph membuat Karl Lagerfeld mengenyahkan logo Chanel dan Double C agar imajinasi tetap berada di era ribuan tahun B.C. Satu keputusan desain yang unggul, bayangkan saja kalau keagungan legenda Pharaoh tetiba berhiaskan logo Chanel. Salut Karl, love You.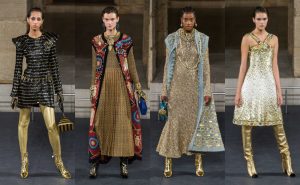 Presentasi Chanel Métiers d'Arts ini diadakan di Temple of Dandur, yang berada di dalam museum Met. Temple ini berasal dari Nubia, di tepi barat sungai Nile, Mesir. Dendur dibawa ke Amerika tahun 1967 dan dihibahkan presiden Amerika Serikat waktu itu, Lyndon B. Johnson kepada museum Met.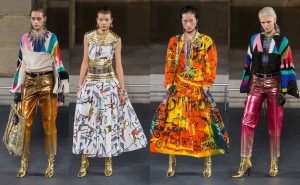 Foto: Alessandro Lucioni / Gorunway.com
Untuk membantu refresh memori Anda terhadap  ancient Egypt culture secara pop, coba cek video 'Remember the Time' dari Michael Jackson: