Mengapa perencanaan akhir pekan dibuat di hari Kamis atau malah Jumat? Coba persiapkan hari ini, mari. Akhir pekan pendek sebaiknya dihabiskan bersama keluarga di dalam kota, di Hotel Mulia Senayan misalnya. Hotel ini berada di kawasan hijau dan di dalam pelukan kompleks pusat olahraga Senayan, juga sangat dekat dengan pusat perbelanjaan kenamaan seperti Senayan City dan Plaza Senayan, serta pemandangan langsung ke 18-hole Senayan Golf Course. Coba persiapkan rangkaian aktivitas untuk akhir pekan yang menyenangkan, dimulai dari makan malam berkonsep brunch di Orient8 pada hari Jumat, dilanjutkan dengan makan siang dan makan malam menggunakan promosi 'Thank God It's Weekend'.
Friday Night Feast
Hotel Mulia Senayan, Jakarta membawa nuansa akhir pekan dari 'Sunday Brunch' di hari Minggu ke makan malam hari Jumat di Orient8 and il Mare. Para tamu dapat memulai akhir pekan mereka dengan menikmati kelezatan kuliner internasional dan sajian minuman yang menyegarkan di Orient8. Ini program yang unik, biasanya di banyak hotel, brunch yang mengenyangkan hanya tersedia siang hari, tapi kali ini di Hotel Mulia Senayan, evening brunch disajikan ketika Jumat malam telah tiba, ketika weekend telah dimulai.
Thank God It's Weekend!
Setelah Friday Night Feast, Hotel Mulia Senayan melebarkan penawaran bersantap di akhir pekan dengan menambahkan program 'Dine 5 for the price of 4', yakni makan berlima dengan membayar untuk 4 orang di hari Sabtu malam untuk kedatangan antara pukul 6 sore hingga 7 malam. Penawaran ini berlaku di The Café, Table8, Orient8, il Mare, Edogin (berlaku khusus buffet) dan Bleu8 (set menu). Penawaran awal program ini juga tetap berlaku, yakni 'Dine 5 for the price of 3' atau makan berlima dengan membayar untuk 3 orang di hari Jumat dan Minggu malam, serta makan siang di hari Sabtu di semua restoran Hotel Mulia Senayan, Jakarta.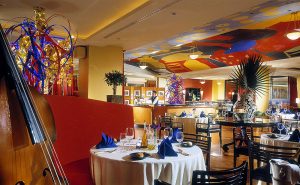 Sunday Brunch
Sunday Brunch menjadi salah satu cara melepaskan kebosanan selama weekedays dan membantu untuk menyambut minggu baru dengan tawa dan berbagi cerita bersama teman dan keluarga. Table8 menyajikan hidangan otentik ala Kanton dan Szechuan, Orient8 menyuguhkan hidangan inovatif asal Perancis dan Pan-Asia dari berbagai wilayah Asia, seperti Thailand dan Vietnam, serta il Mare dengan hidangan menggugah selera khas Italia Utara, menyediakan sajian lezat antara pukul 11 pagi hingga 2.30 sore.
Weekend Stay
Hotel Mulia Senayan, Jakarta, memberikan perhatian khusus bagi orang tua yang ingin menikmati waktu berkualitas dengan anak-anak mereka di akhir pekan dengan menawarkan harga spesial keluarga termasuk sarapan untuk dua orang di The Café dan akses internet gratis di kamar. Penawaran berlaku sampai 30 September 2019 dan dapat dipesan melalui +6221 574 7777.  Seluruh kegiatan akhir pekan di Hotel Mulia Senayan, Jakarta, dapat dinikmati dengan menggunakan Mulia Gift Card, kartu unik yang mempermudah tamu dalam melakukan transaksi. Pemegang Mulia Gift Card dapat menikmati pilihan untuk memesan liburan mewah, makan di restoran pemenang penghargaan, atau memanjakan diri di Mulia Spa.
Foto: Hotel Mulia Senayan