Apakah Anda didera dengan hiruk pikuk Jakarta? Hm, saatnya escape sebentar, manjakan diri sejam atau dua jam, di tempat yang damai, untuk kembalikan keseimbangan antara tubuh, pikiran dan jiwa. Coba The Fountain Wellness, jalan Bumi 24, Jakarta Selatan. Tempat ini didesain dengan kombinasi interior Zen style dan dekorasi indoor plant, sambutan awal yang melegakan untuk memulai layanan yang nyaman. The Fountain Wellness didirikan dengan harapan untuk menjadi tempat peristirahatan sejenak, memupuk kembali harapan dan kekuatan setiap customer dengan konsep One-Stop-Shop Wellness Center, didukung oleh Dandelion yang menyediakan layanan penyegaran tubuh, pikiran, dan jiwa meliputi massage, waxing nail & lash, serta Ardent Coffee yang menyediakan minuman dan makanan sehat.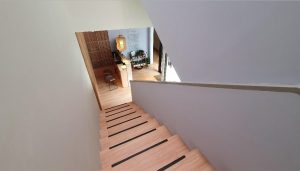 Well-Being Dengan Hati
"Kami melihat bahwa semua hal yang terkait dengan well-being sifatnya berkesinambungan. Tidak hanya badan yang membutuhkan penyegaran, namun dari segi kecantikan, pemilihan makanan & minuman juga sangatlah penting. Hal ini bisa memberikan dampak positif terhadap pikiran dan juga jiwa seseorang," ujar Julia Windasari, Direktur The Fountain Wellness. Dampak positif yang dihasilkan tentu akan menyebar kepada orang-orang sekitar. Untuk memulai dampak ini, Julia juga menyampaikan, "Kami selalu mengingatkan bahwa bekerja itu harus dengan hati. Mulai saat menyapa tamu, kualitas pijatan, dan juga setelah tamu selesai menjalani treatment."
End-To-End Service
Dari sisi layanan, The Fountain Wellness menerapkan end-to-end service dimulai dari welcoming drink, fasilitas loker penyimpanan barang, set baju ganti, shower lengkap untuk kenyamanan customer, serta minuman hangat setelah treatment. Sebagai wellness boutique, The Fountain Wellness menyuguhkan beragam basic treatment yaitu Signature Body Treatment, Traditional Body Massage, Signature Shiatsu, dan Reflexology. Dalam kesempatan ini The Fountain Wellness juga memperkenalkan dua treatment baru yakni Signature Body Scrub Massage dan Signature Herbal Press Massage. Julia menambahkan, kepuasan pelanggan merupakan hal utama dari The Fountain Wellness.
Bulu Mata Dan Santai Dengan Kopi
Dandelion yang sudah dikenal di Jakart dan Surabaya, melengkapi The Fountain Wellness dengan  Eyelash Extensions yang bersertifikasi dari JLA (Japan Lash Association) dan NEEA (Nippon Eyelash Extensions Associations). Sementara Ardent Coffee hadir dengan konsep penyajian specialty coffee dan creative beverage serta hidangan fusion ala Jepang dengan menu seperti Salmon Croquette, Sesame Rainbow Salad, dan Fried Broccoli Bites, kemudian minuman Horenzo-San, Flamed Orange Latte dan Citrus Cold Brew sebagai signature beverages. Ardent Coffee juga menawarkan biji kopi pilihan yang di- roast oleh "Ippolito Specialty Coffee" dengan variasi mulai dari kopi lokal favorit asal Aceh Gayo, Sumatra Lintong, Jawa Ciwidey hingga yang lebih eksotis seperti dari Ethiopia, Afrika dan Honduras, Amerika Latin.
Foto: The Fountain Wellness