Tahun Baru Imlek bergulir dengan dasar perhitungan rotasi rembulan, tidak seperti kalender romawi yang setiap bulannya diberi nama, kalender imlek yang diberi nama adalah tahunnya. Terdapat dua belas nama tahun yang diberi nama dengan nama-nama fauna, siklusnya berulang setiap 12 tahun sekali, dengan tahun pertama adalah tahun tikus (urutannya: tikus, sapi, harimau, kelinci, naga, ular, kuda, kambing, monyet, ayam, anjing, dan babi). Tahun 2020 ini sangay istimewa karena siklus berulang dengan tahun tikus sebagai tahun pertama. Karakter tahun tikus adalah cerdas dan gesit, banyak ide, pintar, kaya imajinasi, dan intuisi yang tajam.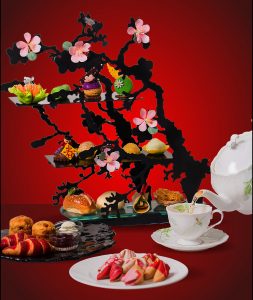 Sesuai tradisi, perayaan ini juga dilaksanakan di Indonesia setiap tahun, termasuk di Hotel Mulia Senayan, Jakarta. Berikut adalah panduan untuk menyambut kedatangan tahun tikus logam di Hotel Mulia Senayan, Jakarta:
1. Chinese New Year Hampers
Bingkisan khas Imlek yang didesain dan dikemas khusus sebagai doa dengan harapan kemakmuran dan keberuntungan untuk keluarga dan teman. Kue-kue kering ini merupakan hadiah yang dinanti sebelum perayaan Tahun Baru Imlek berlangsung. Tersedia hingga 27 Januari 2020 di Chocolate Boutique yang terletak di Lantai Dasar Hotel Mulia Senayan,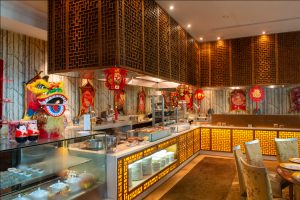 2. Chinese New Year Afternoon Tea
Manjakan musim ini dengan berbagai kue khas Imlek yang dikemas khusus oleh Chef Hotel Mulia Senayan,  Jakarta.  Set  jamuan  teh  sore  yang  terinspirasi  oleh  budaya  Canton  dan  Szechuan  ini merupakan perwujudan perjalanan kuliner makanan tradisional Tionghoa, dari Pancake Bebek Peking, Nian Gao Goreng, hingga Kueku dengan isian lotus. Tersedia pada 15-31 Januari 2020 di Bleu8 dan Cascade Lounge.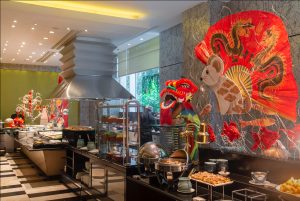 3. Chinese New Year Feast
Tahun Baru Imlek menjadi momen yang menyatukan kebersamaan keluarga besar. Ini adalah waktu yang tepat untuk berkumpul kembali dan menghabiskan waktu berkualitas bersama keluarga dari jauh. Para tamu dapat menikmati deretan perayaan makan bersama Pesta Tahun Baru Cina yang mengasyikkan dengan sajian kuliner di restoran bergengsi yang disiapkan oleh para Chef untuk mengantar doa-doa atas kesehatan dan kebahagiaan di tahun mendatang. Tersedia pada 24 Januari 2020 (makan malam) dan 25 Januari 2020 (makan siang) di Table8 (Set menu), juga di The Café, Orient8, dan Edogin (Prasmanan).
4. Yee Sang
Salad ini merupakan bagian integral dalam Tahun Baru Imlek. Kemewahan kuliner yang luar biasa ini dan lontaran kemakmuran dari setiap elemen di piring Yee Sang yang mewah dilengkapi dengan irisan buri oh, ubur-ubur, sayuran, dan saus jeruk Mandarin. Berikut tradisi untuk menikmati Yee Sang: semua orang di sekitar meja harus berdiri dan menggunakan sumpit untuk mencampur dan melemparkan salad saat berbagai doa khusus dilontarkan. Berdasarkan kepercayaan turun-menurun, semakin tinggi salad dilempar, semakin baik keberuntungan di tahun mendatang.
5. Nian Gao
Nian gao, juga dikenal sebagai kue beras adalah makanan penutup wajib di Tahun Baru Imlek. Makanan manis berbentuk Koi yang menarik ini merupakan harapan agar tahun yang akan datang menjadi tahun yang lebih baik.
6. Pertunjukan Barongsai
Perayaan Tahun Baru Imlek belum lengkap tanpa adanya pertunjukan Barongsai. Tamu dapat bertemu dan memberikan angpao kepada Barongsai yang merupakan simbol kebijaksanaan, keberanian, dan kekuatan pada 24 Januari 2020 yang berlangsung selama 2 sesi mulai pukul 6 malam di Lobi Hotel Mulia Senayan, Jakarta, kemudian mengunjungi Table8, Cascade Lounge, The Café, Orient8, il Mare, Bleu8 melewati Chocolate Boutique, dan Cake Shop, selanjutnya di CJ's Bar. Pertunjukan akan berlanjut pada 25 Januari 2020 saat makan siang dan setelah makan malam.
7. Paket Kamar Special: Perfect Way to Welcome the Year of the Rat
Pada acara khusus ini, orang tua yang ingin menikmati waktu berkualitas bersama anak-anak mereka selama Tahun Baru Imlek dapat menikmati paket akomodasi musim liburan khusus hotel yang mencakup sarapan  untuk  dua  orang  dewasa  dan  satu  anak.  Penawaran  ini  berlaku  untuk  pemesanan  kamar Splendor hingga Signature yang luas dengan pemandangan cakrawala kota Jakarta yang menakjubkan.
8. Photo Booth
Para  tamu  bersama  dengan  keluarga  dapat  mengabadikan  momen  yang  paling  berkesan  selama perayaan Tahun Baru Imlek di Hotel Mulia Senayan, Jakarta. Terdapat stan khusus foto dengan dekorasi lengkap dibuat khusus oleh para perajin ahli hotel di Lantai Dasar. Foto yang diunggah ke Instagram, tag @hotelmulia dan menggunakan tagar yang ditentukan berkesempatan mendapat hadiah spesial.
Foto: Hotel Mulia Senayan, Jakarta