Di lokasi yang sama seperti Januari tahun lalu, jardin de Tuileries, Paris, Louis Vuitton membangun box raksasa untuk presentasi koleksi pria Louis Vuitton fall/ winter 2020/ 2021 oleh Virgil Abloh, Kamis, 16 Januari kemarin. Masuk ke dalam kotak tersebut, langsung terasa seperti berada dalam film Alice and The Wonderland. Gulungan benang, gunting, penggaris, kuas dan berbagai alat untuk menjahit serta membuat baju, berserakan di tengah runway dalam ukuran raksasa dengan latar belakang langit biru berawan putih. Sureal!
Virgil memasuki fase dimana ia berada dalam periode "aware" akan kebutuhan pria. Bukan sekedar memenuhi hasrat kaum "hypebeast". Koleksi yang dipersembahkannya kali ini adalah pakaian pria paling klasik dan paling tua yang pernah diciptakan di dunia, suit. Abloh melihat sisi lain tailoring, dengan kelihaiannya di area street fashion, ia menyuntikan satu ampul cairan street style pada tubuh tailoring. Tanpa menghilangkan pakem-pakem tailoring itu sendiri, seperti konstruksi bahu, lapel dan elemen pendukungnya. Virgil ingin menunjukan sesuatu yang orang lain belum tahu dari dirinya sebagai seorang direktur kreatif sebuah mega brand paling dikenal di dunia.
Potongan suit formal mendominasi pada seluruh koleksi. Ragam jas berkancing satu, dua dan tiga, double breast, jas panjang, kemeja tailored dan celana tappered, dibuat dalam palet warna klasik hitam, biru navy, coklat dan biru bermotif awan. Muncul satu warna kejutan, shocking pink, sebagai penyeimbang agar tidak membosankan. Jaket parka yang dipakai diatas kemeja berdasi, di desain dengan pola berpanel untuk kesan maskulin dan sedikit lebih sporty. Jaket blouson kulit dan cardigan rajut juga dipakai dengan kemeja berdasi. Semua tampam formal. Abloh banyak bermain dengan teknik cut-out yang disambung, ada seperti patchwork dan ada juga yang dijahit sambung sehingga menimbulkan efek rongga pada bagian sambungan yang berbentuk kurva siluet bunga Louis Vuitton. Pada beberapa kemeja dan celana berpotongan formal, Abloh menambahkan elemen ruffles berlapis seperti pada kemeja matador.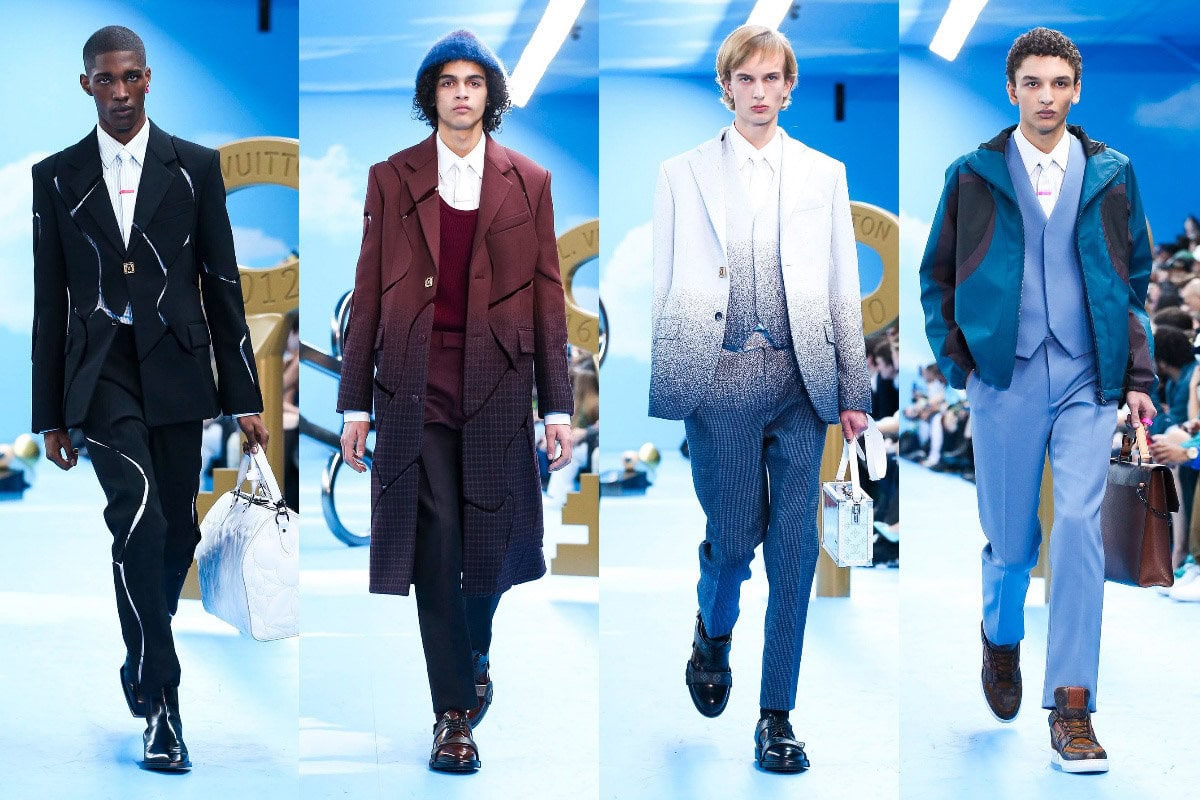 Sepatu dibuat formal dengan model pantofel oxford bertali dan loafers kemudian ditambah dengan shoes-herness (attachable) yang gaya. Setiap look dilengkapi dengan berbagai varian tas yang bertransformasi dari tas kerja klasik Louis Vuitton seperti briefcase, koper dokumen hingga ransel. Misalnya transformasi tas laundry, Steamer bag, yang diperkecil dengan konstruksi miring pada bagian atas atau Keepall yang juga dibuat asimetris pada bagian atas. Sehingga tampil formal tapi juga nakal. Briefcase dengan handle yang panjang dan material embossed, koper monogram, folder bag, tote bag sampai petit male versi soft skin dan hard cover untuk pria. Semua varian tas bukan hanya terlihat gaya, tapi juga fungsional bahkan multi fungsi. Ingat, persentase pria yang membeli barang fungsional lebih besar ketimbang barang yang tidak memiliki fungsi sama sekali.
Lewat koleksi ini, Abloh tampaknya ingin memasuki area pria korporat, yang mungkin belum tersentuh sama sekali olehnya. Dan membuat kaum korporat untuk tampil lebih gaya dan tidak membosankan. Selain koleksi ini terlihat lebih matang dari koleksi sebelumnya, konsep tailoring ini juga akan membuat generasi Z dan millennial lebih menghargai penampilan. Tidak ada yang salah untuk tampil polished daripada berpenampilan sloppy yang sudah tidak keren lagi.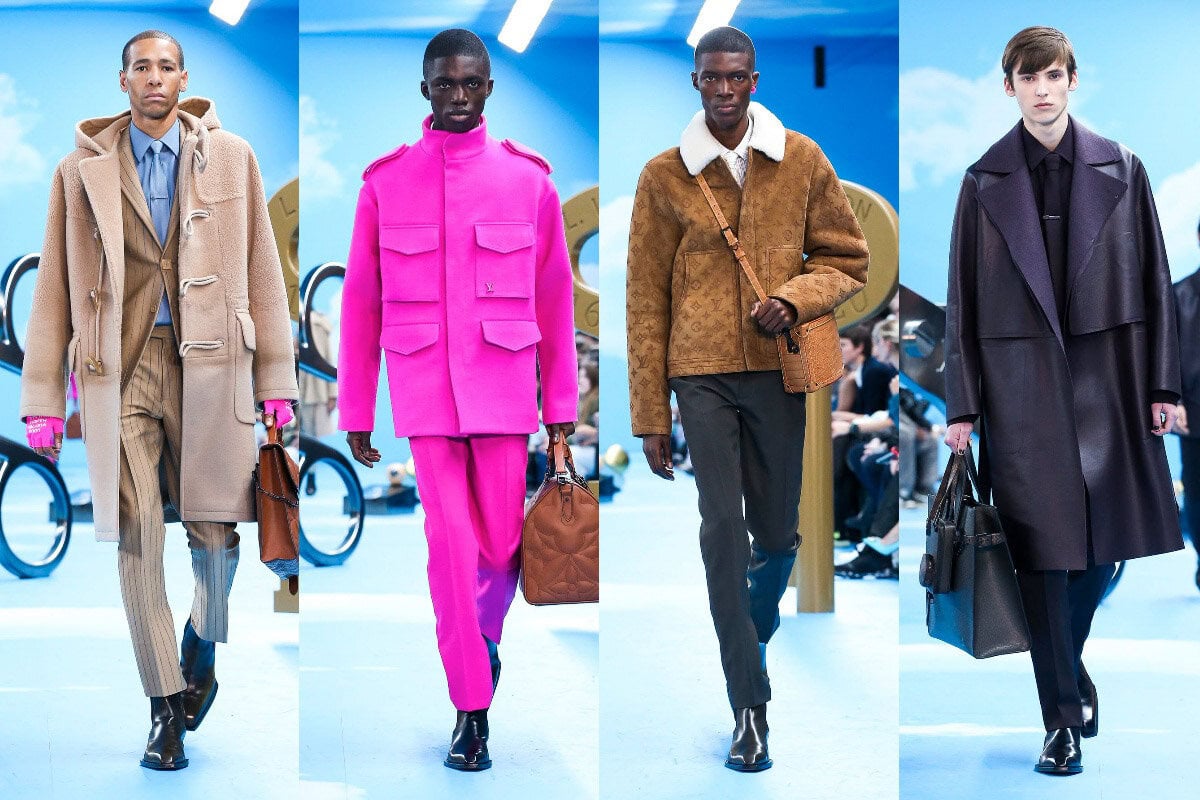 Foto NowFashion