Pada tahun 1982 Porsche memperkenalkannya kelas mobil sport Grup C untuk World Endurance Championship 1982 dan aturan konsumsi bahan bakar baru yang kompleks, Porsche melihat peluang untuk membangun mobil balap yang inovatif: Melihat ke belakang, Porsche 956, "mobil balap abad ini," lahir pada tahun 1981. Tujuannya tidak hanya untuk berpartisipasi dalam World Sports Car Championship yang menuntut, tetapi juga, dari tahun 1984, dalam seri IMSA AS dan seri lainnya yang memungkinkan kendaraan Grup C untuk berpartisipasi. Dalam masa pengembangan yang hanya sembilan bulan, jaminan kesuksesan tercipta saat balapan pertama di Silverstone pada 1982, yang pada tahun-tahun berikutnya menjadi mobil balap tersukses Porsche sepanjang masa.
Reuni penuh kenangan di Leipzig
Stuttgart/ Leipzig. Derek Bell pada saat ini berusia 81 tahun, tetapi ketika ia naik ke Porsche 956 miliknya, dia tetap tampil elegan seperti biasa. Namun 40 tahun yang lalu sepertinya dia hanya melakukan pekerjaannya, hari ini dia mengakui: "Kami bekerja seperti orang gila." 'Kami' yang dimaksud adalah semua pembalap yang mengendarai model 'supercar' Porsche 956/962 dengan kecepatan balap – meskipun untuk tujuan hari ini, dia khusus memikirkan Jochen Mass, Hans-Joachim Stuck dan Bernd Schneider. Mereka semua datang ke Leipzig untuk berbagi kenangan pribadi yang sangat istimewa tentang mobil balap Porsche paling sukses sepanjang masa. 40 tahun yang lalu merupakan era Grup C dimulai.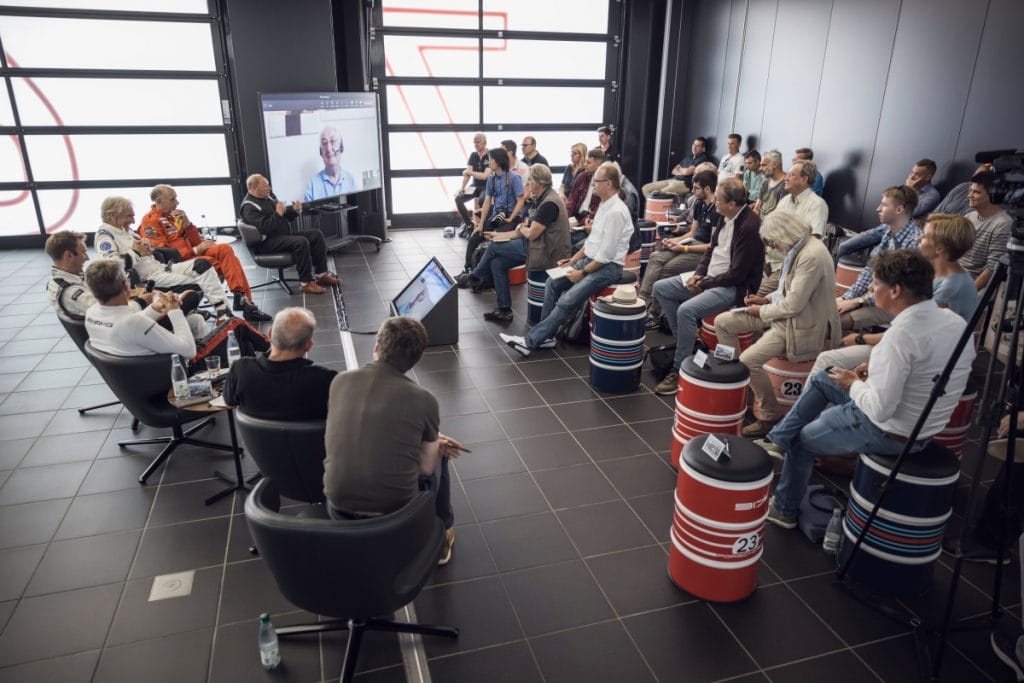 Wakil termuda Group C dan 962 C
Di Porsche Experience Center di Leipzig, Bell dan rekan-rekannya menemukan mobil pemenang dari Le Mans 24 Jam 1982 dengan nomor sasis 956-002. 956 juga hadir dengan nomor sasis 956-005, yang memenangkan balapan 1.000 kilometer di Nürburgring and Spa. Mobil balap ini diperbaharui sepenuhnya oleh Museum Porsche dan dikembalikan ke livery 1983-nya. Mobil-mobil ini juga bergabung dengan IMSA-spec 962 dari tahun 1984, yang mencatat waktu kualifikasi tercepat di Daytona, dan 962 C yang memenangkan Piala Super pada tahun 1987, keduanya juga telah dikembalikan ke kejayaan aslinya. Di samping itu adalah 962 C dengan nomor start 17, pemenang Le Mans tahun 1987. Turut hadir wakil termuda Grup C, juara keempat di Le Mans tahun 1990: 962 C dengan nomor sasis 962-015, dari tim pelanggan Joest.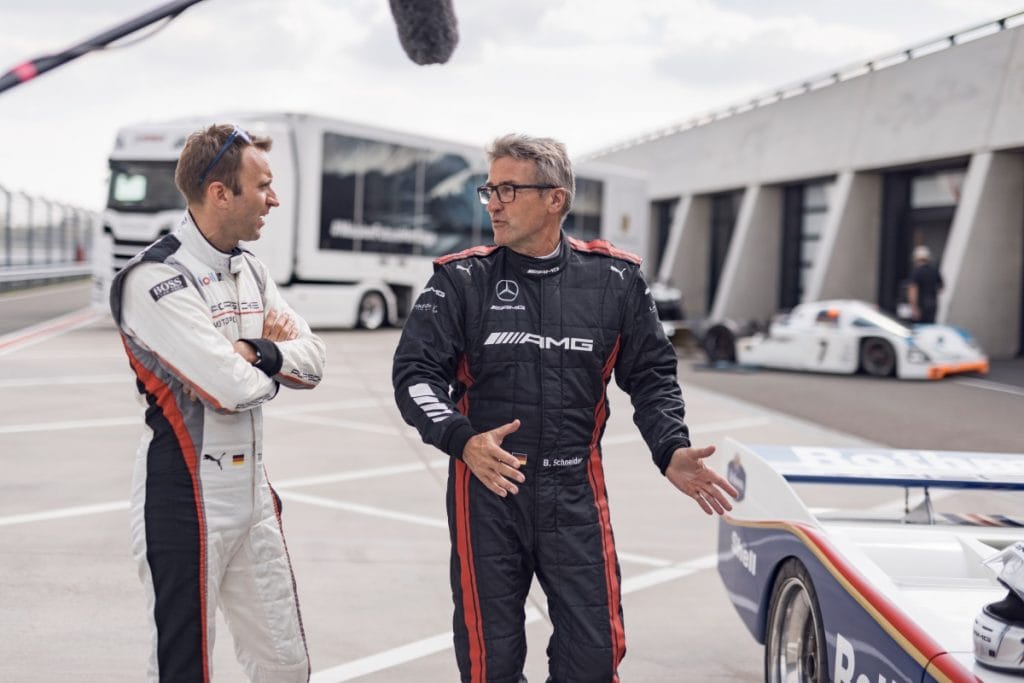 Dominasi dari circuit ke circuit
Reuni tersebut juga dihadiri oleh insinyur penguji saat itu Helmut Schmid dan – bergabung melalui video – Norbert Singer, kepala proyek dan bapak metafora dari mobil legendaris. Kumpulan ahli dan bintang seperti itu membutuhkan tuan rumah yang dapat bertemu mereka dengan posisi yang setara – dalam hal ini Timo Bernhard, pemenang Le Mans pada tahun 2010 bersama AUDI dan 2017 dan pemenang World Endurance Championship dua kali bersama Porsche. "956 adalah mobil balap paling sukses dalam sejarah Porsche. Mobil ini mendominasi semua orang. Dan itu tetap menjadi pemenang selama 12 tahun yang luar biasa," katanya. 956 tidak terkalahkan di Le Mans dari tahun 1982 hingga 1985, dan kesuksesan ini dilanjutkan dengan lancar oleh penerusnya, 962 C, yang menempati posisi pertama dalam balapan 24 jam di Circuit de la Sarthe pada tahun 1986 dan 1987. Daftar keberhasilan mobil ini memang mengesankan: lima gelar pabrikan dan tim, 43 kemenangan individu di balapan WEC, lima gelar pembalap WEC, tujuh kemenangan keseluruhan di 24 Hours of Le Mans (dari 1982 hingga 1987 dengan 956 dan 962 dan dengan 962 Dauer Le Mans GT pada tahun 1994), empat gelar IMSA, 52 kemenangan individu dalam balapan IMSA, dan lima kemenangan di Daytona 24 Jam.