Ada apa dengan Marc Jacobs? Ia menjual apartemen nya di New York, dan menyerahkan semua benda seni koleksinya ke balai lelang Sotheby's New York. Dalam wawancaranya dengan Sotheby's, Marc Jacobs mengatakan: "Walaupun akan sangat susah berpisah dengan semua ini, aku pikir ini saatnya untukku memberi kesempatan pada diriku untuk memulai segalanya dari nol lagi." Cukup membuat tercenung, mengingat kesuksesan dan keglamoran yang telah dilalui Marc cukup mengagumkan. Ia memimpin kreatifitas jenama Louis Vuitton selama 17 tahun (1997-2014), kemudian mengibarkan jenama fashion atas namanya sendiri di New York, setiap kali Marc Jacobs melakukan fashion show selalu dihadiri oleh bintang-bintang ternama, dengan set runway yang selalu mahal dan hebat jika dibandingkan dengan jenama-jenama fashion lain di New York yang sering membuat fashion show di pentas-pentas yang berukuran kecil.
Sentimental Dan Jeff Koons
Marc mulai mengoleksi benda seni sejak tahun 2000, dengan membeli dua ilustrasi karya Mike Kelley, berjudul 'A Patriot' dan 'Asher Benjamin: Author of the The Country Builder's Assistant' (Sotheby's memberi estimasi harga keduanya sama-sama 8000 hingga 12.000 USD). Sejak tahun 2000 hingga kini, Marc sudah mengumpulkan lebih dari 100 bendai seni, termasuk 'Yorkshire Terriers' karya Jeff Koons,  'Soothsayer' karya Basquiat, 'She Gets Angry At Him' karya Ed Ruscha. Koleksi termahal milik Marc diestimasi senilai 3 juta USD. Semua koleksi Marc memiliki financial dan emotional value yang tinggi, sehingga pelelangan ini cukup terasa sentimental, karya-karya yang mewakili masa kejayaan Marc Jacobs. Untuk melihat-lihat karya-karya yang akan dilelang, silahkan kunjungi website Sotheby's.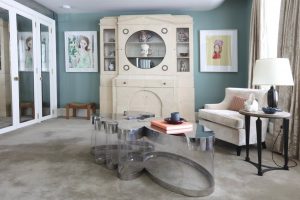 Foto: Sotheby's