Pernah ketemu orang asing yang tidak tahu Bali ada di wilayah Indonesia? Atau malah mengira Bali adalah sebuah negara? Hm, begitulah orang asing, tidak semua pintar dan peduli. Bagaimana hal ini terjadi pada negara super power? Belum lagi negara tersebut bertindak apa-apa, pengumuman rasa maaf langsung terungkapkan. Kasus terjadi karena beberapa jenama fashion menganggap bahwa Hong Kong adalah sebuah negara, sehingga ketika jenama tersebut mengumumkan keberadaan butik-butiknya di seluruh dunia, tersebutlah nama Hong Kong dan Macau, serta dimana kedua kota tersebut berada. Misalnya, Milan – Italy, London – UK, Las Vegas – USA, Miami – USA, New York – USA, Hong Kong – HONG KONG, Macau – MACAU. Padahal Hong Kong dan Macau berada di dalam negara Republik Rakyat Cina.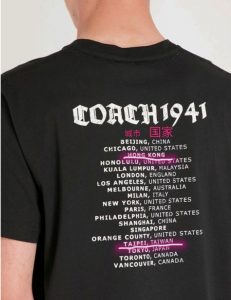 Cepat Tanggap
Jenama pertama yang mengumumkan pernyataan maaf lewat media sosial adalah Versace. Lalu yang lain segera bertindak mencek masa lalu, lalu jenama COACH menemukan bahwa dulu pernah melakukan hal yang sama, mereka pun segera mengunggah ungkapan maaf, kemudian berlanjut dengan jenama Givenchy. Berikut ungkapan maaf dari mereka.
Givenchy:
The house of Givenchy firmly respects China's national sovereignty and territorial integrity.
Immediate actions have been taken to recall the inaccurate t-shirt design from all markets, and measures of product and process review have been and will continue to be taken to avoid similar situations in the future.
The House of Givenchy wishes to sincerely apologize for this mistake that does not reflect the deep respect it has for its Chinese audiences throughout the world, as well as renew its commitment to pursue its longstanding relationship with the market in the most thoughtful way.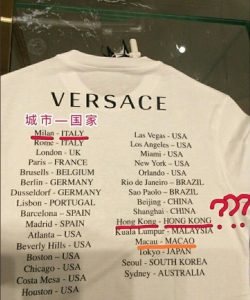 Versace:
I AM DEEPLY SORRY FOR THE UNFORTUNATE RECENT ERROR THAT WAS MADE BY OUR COMPANY AND THAT IS BEING CURRENTLY DISCUSSED ON VARIOUS SOCIAL MEDIA CHANNELS. NEVER HAVE I WANTED TO DISPRESPECT CHINA'S NATIONAL SOVEREIGNTY AND THIS IS WHY I WANTED TO PERSONALLY APOLOGIZE FOR SUCH INACCURACY AND FOR ANY DISTRESS THAT IT MIGHT HAVE CAUSED
COACH:
Coach respects and supports China's sovereignty and territorial integrity.
In May 2018, we found a serious inaccuracy in the design of a few T-shirts. We immediately pulled those products from all channels globally. We also reviewed our entire assortment to ensure compliance, and have strengthened our internal product development process to avoid the occurrence of a similar issue in the future. We are fully aware of the severity of this error and deeply regret it.
We have also taken immediate action to review and correct relevant website content.
Coach is dedicated to long-term development in China, and we respect the feelings of the Chinese people. We will continue to strive to provide exceptional products and service to Chinese customers.