Tom Ford, nama yang menyimbolkan keunggulan berpenampilan, tidak saja luaran dengan produk fashion, dalaman dengan produk underwear, presisi dengan produk watches, wewangian dengan produk fragrance, tapi kini juga hadir untuk kesempurnaan kulit pembungkus raga, yaitu produk skincare. Tampaknya Tom sudah sampai pada rasa tidak percaya dengan segala janji produk perawatan kulit. Untuk itu, Tom menciptakan sendiri skicare yang sesuai dengan standar yang ia mau, namanya Tom Ford Research.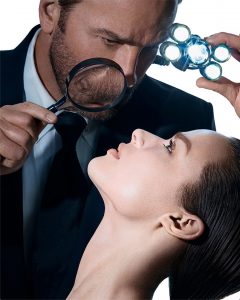 Face Forward
"Saya tidak pernah percaya dengan kemampuan krim dan serum. Saya ciptakan Tom Ford Research untuk menyatukan high performance, scientific skin care, dengan sistem yang benar-benar luxury. Saya bekerjasama dengan ilmuwan, menggunakan cara riset baru, mengembangkan satu formula high potency. This is advanced skin science for the 21 century that helps you put your best face forward." Ujar Tom di website tomford.com.
Caffeine, Cacao, & Gyokuro
Tom Ford Research (TFR)nmemang satu langkah maju dari kolaborasi Tom dengan Estée Lauder, chemistry-driven skincare, hasil pemikiran ilmuwan dan dermatologist. TFR sudah melalui 74 kali formulasi, dan pada percobaan yang ke 75 barulah Tom merasa puas dan sesuai dengan yang diinginkan, yaitu formulasi dari tiga bahan baku; caffeine, dikenal mampu mencerahkan dan energize skin dengan cara mengunci ion sodium pada tubuh. White porcelain cacao, untuk melindungi kulit dari toxin dan meningkatkan natural energy flow. Gyokuro, Japanese green tea, untuk meningkatkan level amino-acid dan melembutkan kulit. TFR diuji ke 200 pria dan wanita, dengan hasil mencerahkan kulit, mengurangi pori dan kerutan, meningkatkan kelembaban, dan unisex. TFR terdiri dari dua produk, Crème Concentrate dan Serum Concentrate.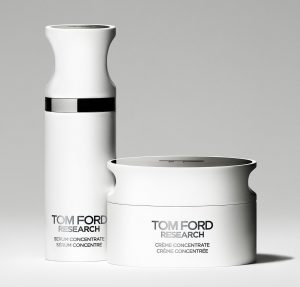 Foto: Courtesy of Tom Ford