Lebih dari 1700 pasang sepatu dipamerkan di MICAM Milano, segala jenis sepatu tampil sebagai primadona, sepatu klasik yang timeless, sneakers hybrid dengan bentuk-bentuk sepatu Chealsea, sepatu-sepatu feminine dari ballerina hingga yang terbening bagai sepatu Cinderela. Semua dihamparkan di area seluas 60.000 meter per segi. Sepatu-sepatu tersebut dibawa oleh lebih dari 1400 perusahaan sepatu dari 30 negara (1 dari Indonesia), mereka antara lain adalah jenama-jenama besar seperti Cerruti 1881, Trussardi, Camper, kemudian jenama sepatu dari negara-negara yang khusus menunjukkan keunggulan dan keseriusan mereka menangani alas kaki, sehingga mereka bergandengan tangan di dalam asosiasi negara mereka sendiri. British Footwear Association membawa 13 perusahaan sepatu. Federation of Spanish Footwear Industries dengan kampanye Shoes From Spain cukup menggetarkan dengan membawa 174 jenama sepatu. Federation Association of the German Footwear and Leather Goods Industry (HDS L), membawa 37 jenama sepatu. Lalu IDMIB (Istanbul Leather and Leather Products Esporters' Association) membawa 53 jenama. Peserta terbanyak tentu saja Italia sebagai negeri pembuat sepatu paling sohor.
Pameran Sepatu Yang Utama
"Micam Milano ini memang ajang yang paling utama bagi industri sepatu di Italia," ujar Tita Soendoro, Senior Trade Analyst Head of Consumer Affair, Italian Trade Agency – Italian Promotion Office of the Italian Embassy Jakarta. Acara pameran sepatu terbesar di dunia ini berlangsung dari tanggal 16 hingga 19 Februari 2020, di Fiera Milano Strada Statale Sempione, Rho. Tempat ini memang disediakan khusus pemerintah Italia sebagai pusat pameran berbagai industri (di sini juga berlangsung Milan World Expo 2015). Pameran berlangsung dua kali setahun pada bulan Februari untuk seri autumn dan winter, lalu pada bulan September untuk seri spring/summer. Menghadirkan koleksi untuk pria, wanita, dan anak-anak.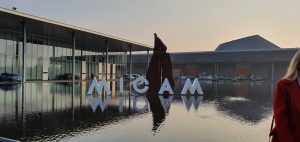 Foto: Dean